Mechanics' Institute Chess Club Newsletter #829
June 1, 2018
While preparing, look for lines where your opponent has good results but the opening itself does not look all that impressive. That is where he is most vulnerable.
—Swedish Grandmaster Lars Karlsson, quoted in Mark Dvoretsky's
For Friends and Colleagues volume II (page 118).
1) Mechanics' Institute Chess Club News
The Summer Tuesday Night Marathon began this week. It's still possible to enter the eight-round event, which is both USCF- and FIDE-rated, with a half-point bye for round one.
---
From round 1 of the Summer Tuesday Night Marathon:
| | |
| --- | --- |
| | |
| White to move (Chambers–Newey after 11...Qd8) | White to move (Tsodikova–Perlov after 6...Nc6) |
| | |
| White to move (Davila–Lucas after 13...h6) | White to move (Askin–Boldi after 23...Kf8) |
| | |
| Black to move (Cole–Pane after 19 Qxd2) | White to move (Enkhjargal–Azimzadeh after 10...Nc6) |
| | For the solutions, see the game scores for round 1. |
---
If the games played in the TNM had a soundtrack it would be Ennio Morricone's classic score to The Good, The Bad and the Ugly. Many well-played and not so well-played efforts are seen in the Mechanics' Institute Chess Club's signature event, but even the latter can have moments of interest, as Bobby Fischer and Alexander Alekhine both appreciated.
Alekhine, in particular, was noted for his habit of walking around tournament halls and examining the games of amateur players. When asked why, he responded chess players of all levels were capable of coming up with interesting ideas. While non-professionals might lack the ability to play a mistake-free game from beginning to end they could also come up with some amazing moves.
A case in point is the following near-miracle save by Class A player (now Expert) Ed Lewis of Stockton, who had an outstanding Spring TNM. It could have been even better if he had drawn his last round game. Check out his 25th move.
The winner of the game, Alexander Ivanov, has raised his rating 100 points the past year and at 2193 post Spring TNM is close to his goal of becoming a Master.
Queen's Gambit Declined D36
Alexander Ivanov (2166)–Edward Lewis (1983)
Mechanics' Spring TNM (8) 2018
1.d4 Nf6 2.c4 e6 3.Nc3 d5 4.cxd5 exd5 5.Bg5 Be7 6.e3 0–0 7.Bd3 Re8 8.Nge2 Nbd7 9.0–0 c6 10.Qc2 Nf8 11.f3 h6 12.Bh4 Ne6 13.Rad1 Kh8 14.Bf5 Qb6 15.Kh1 Nf8 16.Bd3
16...Ng4?!
Ingenious, but not quite correct. 16...Be6 was more solid.
17.Na4?
17.Bxe7 Nxe3 18.Bc5! Qd8 19.Qd2 Qg5 20.Rg1 Nxd1 21.Qxd1 and White's two pieces are superior to Black's rook and pawn in the middlegame.
17...Bxh4?
17...Nxe3 18.Nxb6 Nxc2 19.Bxe7 (19.Nxa8 Bxh4 20.Nc7 Re7 21.Nxd5 cxd5 22.Rc1 Rxe2 23.Bxe2 Bf5=) 19...axb6 20.Bxf8 Ne3 21.Ba3 Nxf1 22.Rxf1 Bf5 23.Bxf5 Rxe2 and in the endgame Black's rook and pawn are enough against White's two bishops.
18.Nxb6 Nxe3
19.Qa4! Bh3 20.Nxa8 Bxg2+ 21.Kg1 Rxa8 22.Rf2 Bh3 23.Rc1 Ne6 24.Qb4 Ng5 25.Qxb7?
25.Nf4 won.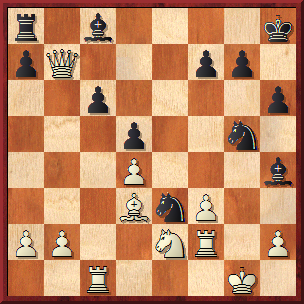 25...Bc8!!
Ed Lewis showed great tactical resourcefulness throughout this tournament and here he does it again, rescuing a lost position.
26.Qxc8+
26.Qxa8 Nh3+ 27.Kh1 Nxf2+ 28.Kg1 Nh3+ draws.
26...Rxc8 27.Nf4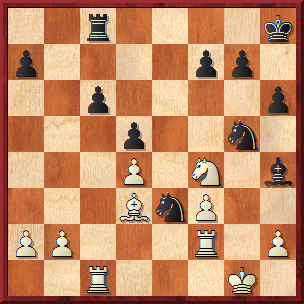 27...Bxf2+?
Spoiling Black's previous great play. There was no hurry to take on f2 as the rook wasn't running away. Instead 27...g6 28.b4 (28.Re2? Nxf3+ 29.Kh1 Bg5) 28...Kg7 29.b5 Bxf2+ 30.Kxf2 Nc4 holds the balance.
28.Kxf2
Now White recovers the pawn and enters the endgame with more active pieces.
28...Nc4 29.Bxc4 dxc4 30.Rxc4 Rb8 31.b3 Rb6
Black's lack of activity make this a hard position to hold.
32.Nd3 Ne6
32...Ra6 was more stubborn.
33.Ne5
This wins material and the game.
33...Ra6
33…Nd8 34.d5! cxd5 35.Rc8 ends things immediately.
34.a4 c5 35.dxc5 f6 36.Nd7 Rc6 37.b4 Kg8 38.b5 Rc7 39.c6 Rc8 40.a5 Nd8 41.Kg3 Kf7 42.b6 axb6 43.axb6 Ke7
Both 43...Rxc6 and 43...Nxc6 lose to 44.b7.
44.b7 Nxb7 45.cxb7 Rxc4 46.b8Q Kxd7 47.Qg8 Rc5 48.Qxg7+ Ke6 49.Qxh6 Rg5+ 50.Kf2 Kf7 51.h4 Rd5 52.Qh7+ Kf8 53.Qg6 Ke7 54.f4 Rd2+ 55.Kf3 Rd6 56.Qg7+ Ke6 57.h5 Rd3+ 58.Ke4 1–0
---
The Mechanics' has two weekend tournaments coming up in June. The 55th Arthur Stamer Memorial, held June 2 and 3, honors the memory of Arthur B. Stamer (1884–1964), who served as the first Director of the Mechanics' Institute Chess Club in San Francisco from 1951 until 1964. He won the Mechanics' Institute CC championship in 1905 and 1923.
Jim Reynolds, editor of the Precita Valley Chess Club Bulletin, wrote of Stamer; "Art was a San Franciscan through and through. He was working with his dad in the restaurant business when the 1906 earthquake and fire hit our city. In 1910 he began working with Uncle Sam's post office here in S.F. and stayed with it until he retired in 1941. He loved to recall the many great events that have happened at Mechanics' Institute through the years. He believed the most memorable event was when Pillsbury put on an exhibition here in 1902. Pillsbury played 16 games of chess blindfolded while he also played 4 games of checkers and some 6 hands of whist. He won all of his whist games and checker games, and all of his chess games but two—one of the victors being A. B. Stamer."
The ratings and tournament results available at US Chess only go back to September 1991, but thanks to the efforts of Mechanics' Institute Archivist Diane Lai you can find the computer-produced crosstables of the Stamer tournaments from 1981 to 1991 here.
The 18th William Addison Memorial, G/40 on June 16 remembers the strongest player San Francisco has ever produced. William Addison came to the City in early 1953; after a stint in the US military he soon found his way to San Francisco. In his early 20s, with an Expert rating, his prospects of becoming a top player seemed remote, but through hard work he made considerable progress the next decade and a half. He ended up a very strong International Master with a 2490 FIDE rating in 1970 when he retired from tournament play after the 1970 Palma de Mallorca. Among his career highlights were a second-place finish in the 1969 U.S. Championship and playing on two U.S. Olympiad teams (the 1966 squad with Bobby on board one took home the silver medals).
---
Book and equipment donations to the Mechanics' Institute are always welcome. Donations to the Mechanics' are tax-deductible due to the M.I.'s 501(c)(3) nonprofit status. If you have any chess books or equipment that have been lying around unused for some time, consider donating to the Mechanics'. You will not only get a tax write-off but also the satisfaction of seeing things put to good use.
2) Hou Yifan at the Mechanics' Institute May 22 by Paul Whitehead
Hou Yifan's talk at the Mechanics' Institute was an outstanding success, with over 100 people crowding the Chess Room. The charismatic and accomplished Grandmaster from China held the audience spellbound as she talked about her development in chess, from a 6-year old prodigy to competing with the world's best. Along the way she offered sage and savvy advice to the youngsters and the elders in attendance. An unforgettable evening.
John Donaldson adds: Many thanks to MI Chess Club Trustees Michael Hilliard, Vlad Naroditsky and Mark Pinto for sponsoring this event, and to Alexandra Lindsey and Paul Whitehead for promoting it so well at short notice. M.I. Grandmaster-in-Residence Nick de Firmian and Executive Ralph Lewin emceed the event, while Arthur Ismakov gets credit for the initial idea of bringing Hou Yifan to the M.I. and providing her transportation. A big thank-you to all.
Hou Yifan talking about her career. (Photo: Mechanics' Institute)
A standing-room-only crowd listens to three-time Women's World Champion Hou Yifan (Photo: Mechanics' Institute)
This is not the first time a famous female chess player has been a guest of the Mechanics' institute. Among the legendary figures to have visited the Chess Room are U.S. Women's Champion Mary Bain (simul in the 1950s), Alla Kushnir, who played three times for the Women's World Championship (simul in 1975), Women's World Champion Xie Jun and Sofia Polgar (participants in the 1995 Pan Pacific International), U.S. Women's Champions Irina Krush and Jennifer Shahade (1999 U.S. Junior Closed, hosted by the MICC) and Women's Grandmaster Lufei Ruan of China, who lost a World Championship match to Hou Yifan in 2010 (lecture in 2014). Susan Polgar, who played in a round robin tournament in San Francisco in 1985 organized by Guillermo Rey, definitely visited the club at the time and may have given a simul.
Xie Jun and Sofia Polgar can be found in the front row of this group photo from the 1995 Pan Pacific International, hosted by the Mechanics' Institute Chess Club. (Photo: Mechanics' Institute Chess Club Archives)
3) Our Man in Havana—Sam Shankland triumphs again
It would have been next to impossible for Sam Shankland to surpass his performance in the 2018 US Championship where he won ahead of three players rated in the top ten in the world, but his result in the recently concluded Capablanca Memorial was impressive, to say the least. The 26-year-old Grandmaster from Walnut Creek scored an undefeated 7½ from 10 against a field averaging over 2630 FIDE to take first place by 1½ points. His score, good for a performance rating of 2831, earned him 16 points, and his FIDE rating is now 2717, number 30 in the world. Sam crossed 2600 FIDE in 2012 and 2650 in late 2014, but then spent the next three years going back and forth between 2650 and 2680. His recent and well-deserved breakthrough is the product of a strong work ethic that has finally paid dividends.
Sam's next tournament is the American Continental Championship, a qualifier for the FIDE World Cup, which will be in Montevideo, Uruguay, from June 1–11. He will be the top seed in the 11-round event, which has 24 GMs competing in the 119-player field.
Sam Shankland unleashes a Tal-like stare against Alex Lenderman in the 2018 U.S. Championship (Photo: Saint Louis Chess Club)
Three of Sam's games from the Capablanca Memorial, with detailed annotations by John Henderson, can be found at game 1 , game 2 and game 3.
4) Chris Mavraedis Honored by Golden West Chapter of the ALS Association
Falling in Love with Baseball is a must-have for all baseball fans. Written by long-time Mechanics' member and U.S.C.F. member Chris Mavraedis, who has been living with ALS since 2010, and edited by Bob Sockolov, one of the principal partners of the San Francisco Giants, this is a beautiful hardcover collection of stories and photos and a true collectable. The two were recently honored with the 2017 Spotlight Award for their efforts to raise awareness and support for the ALS community. Pick up a copy today, available at the San Francisco Giants dugout store and https://mavobooks.com/. A wonderful video that talks about Chris' life and the book can be found here.
5) London Calling via Glasgow
In Newsletter #821 we gave the game Paragua-Sarkar, New York State Championship 2017, as a new take on the Greek sacrifice (Bxh7+), but as the noted chess journalist and photographer John B. Henderson of Glasgow points out, this miniature using the London System had already been played before. In fact Mega Base 2018 gives a half-dozen games played in 2016–2017, including one where Grandmaster Aleksandrov fell victim to Alexander Moskalenko (Kazan 2016).
6) World's Largest Chess Piece
The World Chess Hall of Fame unveiled the new world record for largest chess piece, certified by Guinness World Records. The record-breaking king chess piece stands 20 feet tall, with a base of 9 feet, 2 inches, weighing 10,860 lbs. It is an exact scale replica of the black Staunton king piece designed for the inaugural Sinquefield Cup held annually at the Saint Louis Chess Club since 2013.
7) Tournament Activity picking up in Berkeley
The late 1960s to the mid-1980s have long been thought to be the golden age for Bay Area chess. Among the highlights during this period were three Berkeley players (John Grefe, Walter Browne and James Tarjan) finishing respectively =1st, 3rd and 4th in the 1973 U.S. Championship; the 1981 U.S. Open in Palo Alto, with a then-record turnout of 662 players, and with Bay Area players Nick de Firmian and Jeremy Silman in the five-way tie for first; and the 18-player 1984 U.S. Championship held in Berkeley, with de Firmian taking second and James Tarjan tying for third.
During the 1970s and 1980s players had their pick of tournaments around the Bay Area, with events held regularly in San Jose/Santa Clara (Francisco Sierra), Sunnyvale (Jim Hurt), U.C. Berkeley (Alan Benson and Mike Goodall) and of the course the Mechanics' Institute Chess Club. Those who were ambitious could play every weekend.
As much as those times were special, the current chess scene in Northern California is even better. The composition of players is different, with many more kids and not as many adults, but the strength of those competing is self-evident, with current US Champion Sam Shankland rated in the top 30 in the world, Daniel Naroditsky a member of the 2015 US entry in the World Team Championship and Zviad Izoria having defeated both Fabiano Caruana and Hikaru Nakamura in the 2018 US Championship. A number of local youngsters have earned their International Master titles, including Yian Liou, Cameron Wheeler, Vignesh Panchanatham and Kesav Viswanadha.
Bay Area Chess in the South Bay has major tournaments every month and has brought world-class players to the area to teach at its chess camps. The Mechanics' Tuesday Night Marathon has grown by leaps and bounds, and is very likely the largest week-night tournament in the world (the last 18 events over 100 players, including a record 145 participants in the last TNM). Two major yearly tournaments in Reno, several events in Sacramento and two annual competitions in Santa Rosa have meant plenty of action. Now that has even been expanded.
Recently the Berkeley Chess School bought a permanent home that can host up to 200 players. One of its first events was the Women's Western States Regional Championship, held May 18–20. This first-time event attracted 25 players from the United States and Canada, including two masters and three experts. National Masters Megan Lee of Seattle and Rochelle Wu of Davis shared top honors, scoring 4½ out of 5 (they drew in round 3).
Two upcoming events at the new facility:
Berkeley Weekender June 8-10
Prizes: $2,000 Based on 60 players (60% Guaranteed)
Open: 500,250 U2200:150
U2000: 300,200 U1800:100
U1600: 250,150 U1400:100
Format: 5 Round Swiss, G/90;+30,
Both 2 day and 3 day schedules offered. (2-day rounds 1, and 2 are G/60, d/5). USCF-rated; affects regular rating. Must be a current USCF member to play.
Round Times: 3-day: Fri 7 pm, Sat 11 am, 4 pm, Sun 12 pm, and 4:30 pm
2-day: Sat 11 am, 1:30 pm, 4 pm, Sun 12 pm, and 4:30pm
Byes: 2 byes allowed, must be requested before round 2 starts.
Check in is at 6:45 pm Friday, or 10:45 am Sat.
Entry Fees: $50 if registered before June 5 or $60 after.
Online registration at www.BerkeleyChessSchool.org
Location: Berkeley Chess School. 2622 San Pablo Ave, Berkeley, Ca 94702
Berkeley G/45 Saturday June 30th
Prizes: $300 100% Guaranteed
Open: 100,50
U1800: 75
U1400: 75
Format: 4-round Swiss, G/45;d5, 1 day schedule. Affects both quick and regular rating.
Round Times: 1-day: Sat 11 am, 12:45 pm, 2:30 pm, and 4:15 pm
Bonus: Rated Blitz at 6:30 pm.
Byes: 2 byes allowed, must be requested before round 2 starts.
Check in is at 10:45am Sat.
Entry Fees: $35 if registering any time (even same day).
Online registration at www.BerkeleyChessSchool.org
Location Berkeley Chess School. 2622 San Pablo ave, Berkeley, Ca 94702
8) This is the end
This position arose in a recent Grandmaster game. White had just played 1 Bb7.
Black to move
Show solution
---
You can browse through our archived newsletters using the "next" and "previous buttons".
Want to save this newsletter for reading at a later time? Click here to learn how.
Want to be notified when the next newsletter is published? Join Our Email List →