Mechanics' Institute Chess Club Newsletter #850
November 23, 2018
He should be sleeping more!
—Magnus Carlsen, in response to the question
what do you think about this Maghsoodloo (the
current World Junior Champion)? He says
he studies 20 hours a day.
M.C.'s entire commentary can be found at Chess 24.
1) Mechanics' Institute Chess Club News
Four Masters battled it out on the top two boards in round five of the Vartan Bedjanian Memorial Tuesday Night Marathon, and there are now no perfect scores. Conrado Diaz defeated Jordy Mont-Reynaud in a tough battle, while Ezra Chambers and Tenzing Shaw drew their game. Leading with 4½ points each are Chambers, Diaz, Shaw and Expert Aleksandr Ivanov. Six players are tied for fifth in the event with 4 points, led by Mont Reynaud. Four rounds remain for the 113 participants in the event, which doubles as the 2018 MI Chess Club Championship.
---
From round 5 of the Bedjanian Tuesday Night Marathon:
| | |
| --- | --- |
| | |
| Black to move (Diaz–Mont-Reynaud after 17 Qd2) | White to move (Diaz–Mont-Reynaud after 45...Qa1) |
| | |
| Black to move (Lavi–Ivanov after 29 Rb4) | Black to move (Wong–Argo after 16 Bxf3) |
| | |
| White to move (Askin–Hakobyan after 17...f6) | Black to move (Tsodikova–Jensen after 19 Bc1) |
| | |
| White to move (Roberts–Chea after 20...Qc6) | White to move (Francis–Olson after 20...Qc6) |
| | |
| White to move (Bentz–Agdamag after 30...Rb8) | White to move (Dunlap–Abdi after 48...f3) |
| | For the solutions, see the game scores for round 5. |
---
The Wednesday Night Blitz took a break for Thanksgiving; it resumes November 28.
---
National Master Mike Arne took top honors in the 18th Pierre St. Amant Memorial G/45, scoring 4½ out of 5. International Master Elliott Winslow and Expert Manas Paldhe shared second half a point behind in the 19-player event. This was the lowest attendance at a MI G/45 in twenty years, attributable to the awful air quality in San Francisco, due to the Camp Fire. The next and last G/45 for 2018 will be held on December 1.
---
Two Mechanics' Chess Club regulars, one former and the other still active, traveled to St. Louis to hunt title norms just prior to Thanksgiving. International Master Hans Niemann (2439 FIDE), who now calls Connecticut home, scored 5½ from 9 (performance rating 2521) to finish second in the GM-norm section, while FIDE Master Josiah Stearman (2309) also won rating points. Stearman also finished with 5½ points, placing fourth in his section for a performance rating of 2415, just half a point short of a IM norm. More on the event, held November 16–21 at the St. Louis Chess Club, here.
2) A.J. Fink—Master of Chess and Chess Problems
Until the last 1940s the standard bearers for the Mechanics' Institute were Walter Lovegrove and A.J. Fink. Neither traveled a great deal—just to get Fink to visit Oakland was a great accomplishment, according to the late Neil Falconer—but both did very well against local talent and visiting masters. Fink was even more accomplished as a problem composer, having an international reputation. The following article covers his career to the mid-1930s and supplements the selection of games published in the previous MI Newsletter.
A.J. Fink in 1909 (Photo: MI Archive)
Who's Who in Problemdom, by Maxwell Bukofzer
A. J. Fink
The problem master I am introducing today to our family is in one respect the most remarkable chess personality in the United States. He is not only, like his predecessors in this series, one of the greatest problem composers, internationally reputed, but he carries the rare and unusual distinction of being the only American problemist who has achieved an acknowledged ranking position as a master of the game. From the beginning of his chess career he has maintained leadership on both fields of chess with an ease and thoroughness that astonish the chess world. This dual competence is all the more amazing, because he is not a chess professional, but an amateur whose vocation in life does not permit him ample time for the study of chess.
A. J. Fink was born on July 19, 1890 in the City of San Francisco, California, where he still resides today. He received the fair schooling provided by Uncle Sam for all of his children. Qualifying for the Postal Service he later abandoned it in favor of a business occupation and became Traffic Manager for a large wholesale concern. In 1928, however, he returned to his first vocational choice, the Postal Service, in which he is employed at the present date. Long hours and hard work granted him but little time to devote to the game he loves so well, yet by dint of perseverance and his great talents he conquered the enviable position as an undisputed leader in both sections of chess which he now holds so securely.
He turned to chess in 1906 during the memorable time when the earthquake nearly demolished the city of his birth. On the field of board chess, it took him only 7 years to climb to the position of a champion. In 1913 and again in 1916 and once more in 1919 he was Champion of the well-known Mechanics' Institute of San Francisco. This was, however, a mere start. In 1922 he rose to the dignity of a State Champion of California. Like all thoroughbreds Fink came back to win the State Championship again for two consecutive years, 1928 and 1929.
He participated in numerous tournaments, always finishing with scores that proved him to be a master of the first rank. Among the great masters against whom he was successful are such experts as Torre, Kupchik, Kashdan, Mlotkowski, Dake and Steiner. Truly an enviable record that speaks its own language.
One wonders what Fink would have been able to accomplish had he not been compelled to treat chess as a mere hobby.
Such is A. J. Fink, the valiant board master.
Source: Chess Review, volume 3, number 3, March 1935.
3) Chess books
One of the reasons chess is special compared to other games (think backgammon, poker and bridge, to name three) is the wealth of literature devoted to it. There are literally tens if not hundreds of thousands of books on all aspects of the royal game and print publishers are still going strong in the electronic age. Most books today are bought online, but those who prefer to browse still have options open locally and nationally.
Pretty much every Barnes and Nobles store has a good selection of newer books but used books can be more of a challenge. Fortunately, Bay Area chess players are blessed with two good bookstores that carry a large number of serious chess books.
For those in San Francisco Green Apple Books at 506 Clement is the place to go, but the number one location in Northern California for used chess literature is definitely Moe's Books in Berkeley (2476 Telegraph Ave) which will often have over 100 books for offer and not just opening books from thirty years ago which often plague establishments like Half Priced Books—old opening books do not age well.
To our knowledge there is only one brick and mortar store dedicated to chess books left in the United States. The last man standing is the well-known historian and teacher National Master Fred Wilson ( http://www.fredwilsonchess.com/) whose store at 41 Union Square West (at 17th Street) Suite 718 (212-533-6381) is open Monday through Saturday from 12 pm to 7pm. Wilson's shop is just around the corner from Union Square in Manhattan and is an easy walk to both the Marshall Chess Club and Washington Square Park of Searching for Bobby Fischer fame where street hustlers, happy to play for stakes, abound.
4) Bobby Fischer: Poughkeepsie 1963
The 1963 New York State Open was the last Swiss System event Bobby Fischer played in, and, remarkably enough, the most basic facts about his participation are still not certain 55 years later. This includes the names of his opponents, the order in which he played them and even some of the moves from Fischer's game with the Yugoslav journalist Miro Radojčić.
Fischer annotated four of his games for Chess Life, but the order in which they were published—Roy Oster and Ben Greenwald (October), Arthur Bisguier (December), Walter Beach (February)—provides no clue to the order they were played.
The event must have been submitted too late for the October USCF rating list, as it was only rated in January (ratings given below). Taking these calculations into account and a few other clues, it appears the order in which Fischer played his games was (Fischer's color in parentheses)
Roy Oster (B) round 1 (1819)
Walter Beach (W) round 2 (1999)
Ben Greenwald (B) round 3 (2181)
Matthew Green (W) round 4 (2354)
Joseph Richman (B) round 5 (2215)
Arthur Bisguier (W) round 6 (2507)
Miro Radojčić (W) round 7 (2262)
The double White in rounds six and seven might be the result of Fischer–Radojčić being a forced pairing in the last round. Likely Radojčić had 5–1 going into the last round and was White his two previous games. Bisguier, Sherwin, Green and Richman, who ended up tied for second at 5½–1½, must have had 4½ going into the last game. Almost certainly Radojčić was ahead of Sherwin in the standings after round 6 or Bobby would have played the latter.
The final standings also suggest Richman started with 3½ from 4, then lost to Fischer before winning his remaining games. Chess Life (October 1963, p. 235), gives a four-way tie for second, but Frank Brady leaves out Richman in his final report in the Poughkeepsie Journal (September 3, 1964) while Gino Di Felice in Chess Results: 1961–1963 includes Richman but leaves out Green.
The above information is based on a nice find by Jason Radley, who recently discovered Frank Brady of Profile of a Prodigy and Endgame fame wrote about the tournament in the Poughkeepsie Journal while directing the tournament.
Brady mentions Fischer played Bisguier in round six and Radojčić in round seven and that the latter game went 33 moves. This is significant because the only moves of that game which are known are the first 15 provided by Bobby as a fragment in My 60 Memorable Games. After 1.e4 e5 2.Nf3 Nc6 3.Bc4 Nf6 4.Ng5 d5 5.exd5 Na5 6.Bb5+ c6 7.dxc6 bxc6 8.Be2 h6 9.Nh3 Bc5 and now 10.d3! (instead of 10.0-0 as played against Bisguier), Fischer writes:" as I played against Radojčić in a later round." Now we know it was the next and last round.
Miro Radojčić and friend at the 1964 US Open in Boston (Photo: Beth Cassidy)
Some questions about this event still remain besides who actually finished second (it looks like a four-way tie).
1. Why does Don Schulz in Chess Don have a caption alongside a picture of Fischer and his first-round opponent claiming the latter is John Otis. Incidentally Otis, who does appear in the January 1964 USCF rating list at 1557, is not listed among the Poughkeepsie players participating in Frank Brady's coverage of the event in the Poughkeepsie Journal.
2. Brady writes Fischer played Hy Wallach in round 2 (presumably instead of Beach). Wallach appears on the January 1964 USCF rating list at 1980 so his rating was similar to Beach's. Brady writes Fischer won the game in 25 moves. Fischer's game with Beach ends after White's 24th move. Brady has Fischer defeating Greenwald in round 3 in 29 moves which agrees with the score Bobby gave in Chess Life.
In the February 1964 issue of Chess Life Fischer annotates this game and starts by saying that before the game Beach told him that they had played before and Fischer won.
Fischer then admits he cannot recall anything about this game, played in the 1956 Greater New York City Open.
It's not clear how to reconcile these inconsistencies. FM Frank Thornally, NM Alan Benson and Sam Sloan all knew Roy Oster when he played in California in the late 1960s. They believe Oster is the person pictured in Schulz's book, but are not 100 percent certain.
Bobby Fischer flashing the peace sign around 1958. (Photographer unknown)
It seems prudent to go with Fischer in both cases as one cannot recall him making a similar mistake. The anecdote of Beach telling Bobby they had played before is compelling and the rating of Otis (1557) seems low for Bobby's first round opponent. If Fischer had made a mistake it seems pretty certain someone would have written to Chess Life with a correction.
5) James Tarjan at the Isle of Man
Annotations to the following two games are by former Mechanics' Member Grandmaster James Tarjan, who now calls Portland, Oregon, home.
Ruy Lopez Breyer C55
S. P. Sethuraman (2673)–Jim Tarjan (2404)
Isle of Man (3) 2018
1.e4 e5 2.Nf3 Nc6 3.Bc4 Nf6 4.d3 Be7 5.0-0 0-0 6.Re1 d6 7.a4 Na5 8.Ba2 c5 9.Na3 Nc6 10.c3 h6 11.Bd2 a6 12.h3 Rb8 13.Nc4 Be6 14.b4 cxb4 15.cxb4 b5 16.axb5 axb5 17.Na5 Nxa5 18.Bxe6 Nc6 19.Ba2 d5 20.Qb3 dxe4 21.dxe4 Bd6 22.Bc3 Nh5 23.g3 Qf6 24.Kg2 Ra8 25.Bb1 Rxa1 26.Bxa1 Ra8 27.Bb2 Ra4 28.Qd3 Bf8?!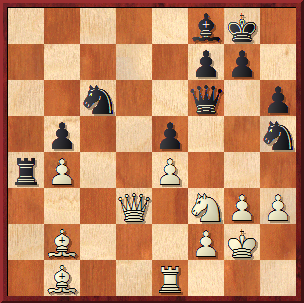 28...Qg6 29.Kh2 Qf6
29.Qxb5
29.Qd5 winning.
29...Rxb4 30.Qe2 Qg6 31.Kh2 Qf6 32.Rc1 Rb3 33.Rc3 Rxc3 34.Bxc3 g6 35.Ba2 Bc5 36.Kg2 Ng7 37.Qd2
I am losing a pawn in any case.
37...Nd4 38.Bxd4 Bxd4 39.Qxh6
The computer gives White a winning advantage here.
39...Qa6
40.Bd5
Just to point it out, he is not going to do it on the 40th move but he has: 40.Bxf7+ Kxf7 41.Ng5+ Kf6 42.Qh8 and the computer wins with this lovely combination.
40...Qf6 41.Qd2 Ne8 42.h4 Kg7 43.Nh2 Nc7
The only way to defend against the immediate threats is 43...Kh7 to meet 44.Ng4 with 44...Qg7.
44.Ng4 Qd6 45.Qh6+ Kg8 46.Bb3 Qc6 47.h5 Qxe4+ 48.Kh2 Qxg4 49.hxg6 1-0
English A36
Jim Tarjan (2404)–Inna Agrest (2283)
Isle of Man (4) 2018
1.c4 Nf6 2.g3 g6 3.Bg2 Bg7 4.Nc3 0-0 5.e4 d6 6.Nge2 c5 7.d3 Nc6 8.0-0 Rb8 9.Rb1 a6 10.a4 Bd7 11.h3 Ne8 12.Be3 Nc7 13.d4 cxd4 14.Nxd4 Ne6
14...b5=
15.Nxe6
Now White at least gets a game to play
15...Bxe6
15...fxe6 16.c5.
16.Nd5 b5 17.axb5 axb5 18.c5 b4
18...Re8 and 18...dxc5 19.Bxc5 Re8.
19.Qa4
19.cxd6!? Qxd6 20.Rc1.
19...Bd7
19...Ne5!?.
20.cxd6 e6?
A very strange idea, thinking that she will win the pawn back later, but after 20...exd6 White has an edge. Best is 21.Qa6 or 21.Qd1!?. I was thinking to play 21.Rfc1, but then Black can trade knights with 21...Ne7.
21.Nc7 Ne5?!
21...Nd4.
22.Qb3 Nc6 23.Rfd1 Na5 24.Qd3 b3 25.Bd4
25.e5! with the idea 25...Bxe5 26.Qa6.
25...e5 26.Bc3 Nc6 27.Qd5 Kh8 28.Ra1 Qc8 29.Kh2
No doubt I did not finish this game off in the most precise manner, but it did the trick.
29...Qb7 30.Ra3 Be6 31.Qc5 Qb6 32.Nxe6 fxe6 33.Qc4 Nd4 34.Ra6 Qb5?
34...Qb7 but I can protect all my bits: 35.Rd2 Rfc8 36.Qa4.
35.Qxb5 Rxb5 36.f4 Ne2 37.d7 Rbb8 38.Bxe5 Bxe5 39.fxe5 Rfd8 40.Rxe6 Kg7 41.Rc6 1-0
6) Book Review, by IM John Donaldson
Kurt Richter: A Chess Biography with 499 Games by Alan McGowan (McFarland 2018, 384 pages, algebraic notation $75) is a model of what a game collection and biography should be. This beautifully-produced oversize red hardback with library binding covers everything related to the life of Kurt Richter, a German master remembered for his great attacking games, opening innovations, and contributions to chess literature, as both a writer of books and editor of several chess magazines. Richter accomplished all of this despite only starting to play seriously at age 16, and not reaching the level of master until his mid-twenties.
Although he played many exciting games Richter's most lasting legacy as a player are his numerous contributions to opening theory. McGowan spends one chapter covering the novelties he unearthed in his favorite Budapest Gambit (both 3...Ng4 and 3...Ne4) and Scandinavian (including the little-tried 1.e4 d5 2.exd5 Nf6 3.c4 b5?! ). His fascination with ...b5 in the opening can also be seen in his adoption of the Polish Defense (both 1.d4 b5 and 1.d4 Nf6 2.Nf3 b5), but Richter also put his touch on more mainstream openings. I remembered the Richter Attack in the French (1.e4 e6 2.d4 d5 3.Nc3 Nf6 4.Bg5 Be7 5.Bxf6 Bxf6 6.e5 Be7 7.Qg4), but until reading this book did not realize Richter was a pioneer who played what is now commonly referred to as the Veresov, decades before the Soviet master of that name did.
Most chess players, if they recall the name Richter at all, associate it with the opening sequence 1.e4 c5 2.Nf3 Nc6 3.d4 cxd4 4.Nxd4 Nf6 5.Nc3 d6 6.Bg5:the Richter-Rauzer Attack. Many modern observers have written off Richter's contributions to the line, dismissing his treatment as nothing more than cheap tricks based on kingside castling, trading on c6 and following up with e5, nothing like the modern treatment with 7. Qd2 followed by castling queenside.
Nothing could be further than the truth. McGowan makes a well-researched argument that if anything there is a strong case for Richter having a stronger association with the opening than Rauzer. Of the 499 in this book 13 feature the German master playing 6.Bg5 and in 6 of them White followed up with 7.Qd2, and in five of them played 8.0-0-0 followed. It should be noted that no games of Rauzer playing 6.Bg5 appear to have been published, although he analyzed the variation extensively.
The close-to-500 well-annotated games in this book feature a wealth of aggressive chess with beautiful combinations and sharp attacks throughout—Richter didn't play safety-first chess.
The games are not only reason to buy this book. McGowan, who spent three decades researching and writing this work in what was clearly a labor of love, has uncovered a great deal of previously-unknown material pertaining to both Richter and his contemporaries. It covers not only the period between the two World Wars, but also the latter part of Richter's life, when the native Berliner found himself stuck in the eastern part of the city. McGowan has included numerous artifacts and photographs. Many crosstables round out a first-rate production.
McFarland has published many outstanding books the past three-plus decades, and Kurt Richter : A Chess Biography with 499 Games ranks right up there with the best. This is a wonderful book that would make a perfect Christmas present for any serious chess player.
Highly recommended. This book is now in the MI Library.
7) This is the end
Which side has the advantage in this study?
White to move
Show solution
---
You can browse through our archived newsletters using the "next" and "previous buttons".
Want to save this newsletter for reading at a later time? Click here to learn how.
Want to be notified when the next newsletter is published? Join Our Email List →