Newsletter #963
April 10, 2021
By Abel Talamantez
Table of Contents
---
Mechanics' Institute Organizing Spring Club Matches Against World's Historic Clubs!
The field is set and so are the dates for the Mechanics' Institute's 2021 Spring Club Match Tour, in which we will play four of the most historic chess clubs in the world an online matchs on Chess.com. We set out to organize these matches so our clubs could not only compete against one another, but also so our communities can learn about each other and promote our rich histories. These matches will be held on Saturdays and will start at 10am PT unless otherwise noted. We will match up a fixed number of players on each side, with matchups being predetemrined and games started manually by Chief TD Judit Sztaray. Each player will play two games against the same opponent, once as white, once as black, with a time control of G/15+2. We will stream all the matches live on our Twitch channel, with live commentary by GM Nick de Firmian, FM Paul Whitehead, and MI Chess Director Abel Talamantez. Here are the match dates: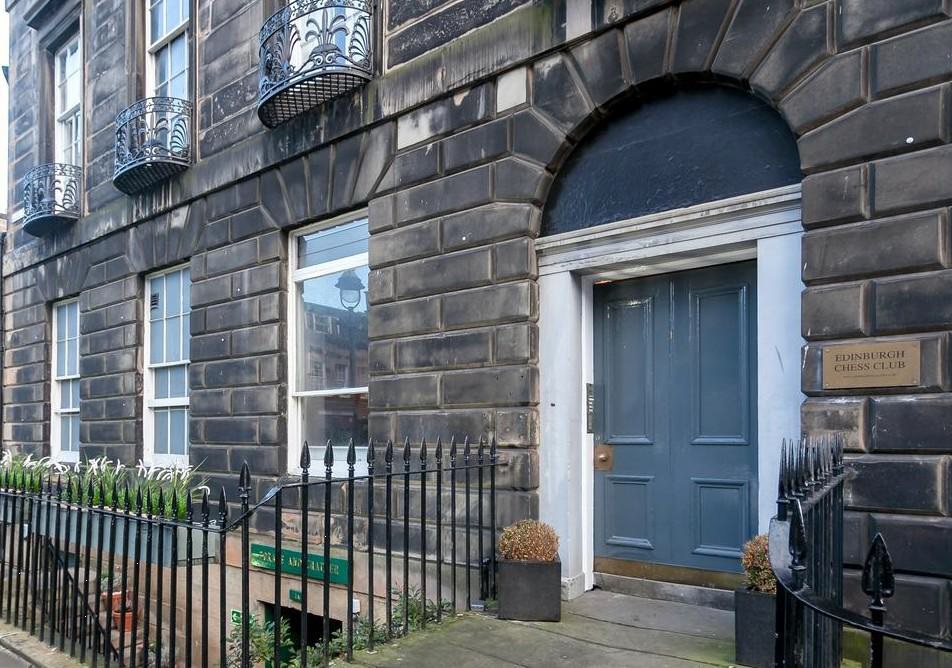 Saturday April 24: Edinburgh Chess Club: Edinburgh, Scotland. This is a rematch of a match we won in early March. Founded in 1822, it is the second oldest continually-running chess club in the world. They own their own building, contributing to their longevity and history.
Saturday May 1: Zurich Chess Club: Zurich, Switzerland. The Zurich Chess Club, founded in 1809, is the oldest chess club in the world still in existence. Its history was chronicled by Richard Forster in his book The History of the Zurich Chess Club: 1809-2009.
Saturday May 8: Royal Dutch Chess Club (Discendo Discimus): The Hague, Netherlands. Founded just two years before the Mechanics' Institute in 1852, Discendo Discimus is housed in the National Chess Building in The Hague and has a very active club which includes regular tournaments, youth programs and classes.
Saturday May 15: Hamburger Schachklub: Hamburg, Germany. Founded in 1830, This brick and mortar chess club in Hamburg, Germany recently competed in the European Club Cup online, placing 6th in the finals: http://chess-results.com/tnr555042.aspx?lan=1&art=0&turdet=YES&flag=30
We will recruit teams to participate and compete in these matches, as they will generally be limited to 15-20 players. Some of these matches will include a scholastic component as well. If you are interested in playing, please reach out to us: [email protected]
---
April 2021 TNM Begins April 13th!
The April 2021 Tuesday Night Marathon begins on the 13th and registration is open! We had 76 players in our last marathon and even had some brand new players light up the leaderboard and deliver some exciting games, as IM Brian Escalante defeated FM Max Gedajlovic in the final round in the game of the tourney to tie for 1st place with GM Gadir Guseinov with 7/8. Click here to see the results from the March TNM: https://www.milibrary.org/chess-tournaments/march-2021-tuesday-night-marathon-online.
This months TNM will be 6 rounds, 2 rounds per evening with round times 6:30pm PT and 8:00pm PT. Time control is G/35+2 and is USCF rated, with games paired manually on Chess.com. Dr. Judit Sztaray is the Chief TD. We will stream the event live with commentary from 3-time US Champion GM Nick de Firmian, FM Paul Whitehead and Mechanics' Institute Chess Director Abel Talamantez on our Twitch channel: https://www.twitch.tv/mechanicschess.
To register, please follow this link: https://mechanics-institute.jumbula.com/2021OnlineTournaments/Apr2021TNMOnline
Full tournament information is here: https://www.milibrary.org/chess-tournaments/april-2021-tuesday-night-marathon-online
---
Thursday Night Marathon
Two rounds are completed in the Thursday Night Marathon, and 9 players remain perfect with 2/2 and quite a few strong players at 1.5/2. There are three rounds left, here are the current standings.
SwissSys Standings. Open (Standings (no tiebrk))
---
Reciprocity Partnership With Marshall Chess Club
The Mechanics' Institute and the Marshall Chess Club entered into a partnership last year in which we agreed to recognize each organization's members so that our players can enjoy the benefits our respective clubs. Now that there are so many course offerings and USCF online-rated events, we wanted to let our chess community know again that if you are a member of the Mechanics' Institute (meaning you have a membership card and paid the annual fee), you may enjoy playing at Marshall or taking one of their courses at the Marshall member rate. Marshall has also promoted this reciprocity agreement with Mechanics' Institute in their newsletter the Marshall Spectator. To subscribe to their newsletter, please follow this link: https://marshallchessclub.us2.list-manage.com/subscribe?u=8d1c41bb7086f1137fd9939ba&id=3a3fc8e77f.
To see their list of events, click this link: https://www.marshallchessclub.org/tournaments/upcoming
If you are a member and wish to be added to the list of members to participate in Marshall events, please send an email to [email protected] and list your USCF number. We will verify membership and place you on the list.
We look forward to this partnership between our two historic clubs in an effort to continue bringing communities together through chess!
---
The GM Nick de Firmian / FM Paul Whitehead Arena Live on Twitch
The GM Nick de Firmian/FM Paul Whitehead Arena every Tuesday at 5pm PT (right before the start of our TNM) has become a great way for our Mechanics' staff to play casual games with our members. Entry is free, and lasts 60 minutes with a time control of G/5+2. In this arena format, players register and participate in openly paired club games online. When a game ends, players are paired with the next available person ready to play, regardless of rating or past results. With Nick and Paul in the arena, anyone registered will have a shot at playing a 3-time US Champion, or the legendary FM Paul Whitehead. Our arena has also attracted other popular players, such as Michael "fpawn" Aigner, IM Josiah Stearman, and even FM Kyron Griffith has played. These games make it so that any player, regardless of strength, may have an opportunity to play some strong players. More importantly, the arenas become a very fun and engaging atmosphere for our Mechanics' club players, as Nick and Paul banter on camera about their games with a lively interaction in the Twitch chat.
Here are two games from the arena, annotated by GM Nick de Firmian.
(1) GM Nick de Firmian (NicholasDeFirmian) (2455) - Callaghan McCarty-Snead (DoctorBanner) (2039) [E73]
Live Chess Chess.com, 07.04.2021
[de Firmian]
1.d4 Nf6 2.c4 g6 3.Nc3 Bg7 4.e4 d6 The Hulk plays a fighting King's Indian Defense 5.Be2 0-0 6.Be3 Nbd7 7.g4 It is a little unusual for White to expand on the kingside like this. Probably White won't castle kingside after this but at least it gains space. 7...e5 8.g5 Ne8 [8...Nh5!? 9.Bxh5 gxh5 10.d5 f5 is a messy alternative that may be worth a try] 9.Nf3 f5 10.gxf6 Bxf6 This is a little passive and gives White the opening edge. Interesting was [10...Nexf6 11.dxe5 Ng4 12.Bg5 Qe8 13.exd6 Bxc3+ 14.bxc3 Qxe4 with a wild open game] 11.d5 a5 12.h4 Ng7 13.Ng5 Nb6?! This is a passive square for the knight and allows the White initiative to grow. Preferable was [13...Be7 14.Qd2 Nf6 Though White still holds an edge.] 14.Qd2 h5 15.0-0-0 Bxg5?! White will have an easy game to play with the dark-squared bishop unopposed. [15...Bd7 16.c5 Na4 at least tries to confuse matters] 16.Bxg5 Qe8 17.f3 Bd7 18.Rhg1
White has control and an easy game to play. Black needs to get angry here to have a chance.
18...Kh7 19.Rg3 Na4 20.Rdg1 Nxc3 21.Qxc3 Qc8 22.Kb1 Be8 23.c5 b6?
quietly caving in to the pressure and giving away a key pawn [23...Qd7 would maintain material equality in a difficult position]
24.cxd6 cxd6 25.Qxc8 Rxc8 26.Be7 Rf4!
The best fighting chance in this bad endgame. Black loses the center pawns but gets a passed h-pawn.
27.Bxd6 Rxh4 28.Bxe5 Bf7 29.Bd4 Rb8 30.Rc1 Rb7
[30...Nf5!? 31.Be5 Re8 32.exf5 Rxe5 33.Bd3 is also tough for Black]
31.Rc8 Bxd5!? 32.Rg5?
[32.Bxg7! Bxe4+ 33.fxe4 Rxg7 34.Bd3 wins a piece]
32...Bf7?!
[The clock is running down and the errors come. Black is worse but even material after 32...Rh1+ 33.Rg1 Rxg1+ 34.Bxg1 Be6]
33.b3?!
[33.Rg1 Rh2 34.Bb5]
33...Rh1+ 34.Kc2?!
[34.Rg1]
34...Rh2 35.Kd3
35...Ne6??
A blunder with the clock running out. The Hulk had gotten right back in the game and would have even chances after [35...Rd7! 36.Re5 h4]
36.Rh8#
NicholasDeFirmian won by checkmate. A lucky turn of events for me just as the game was getting messy again.
1-0
(2) FM Paul Whitehead (chessmonster666) (2270) - NM Sriram Krishnakumar (2008king) (2176) [C77]
Live Chess Chess.com, 07.04.2021
[de Firmian]
1.e4 e5 2.Nf3 Nc6 3.Bb5 a6 4.Ba4 [One still occasionally sees 4.Bxc6 dxc6 5.0-0 when Black has played everything under the sun. It's surprising that the most natural looking move in general, 5...Nf6?? , is here a blunder! 6.Nxe5 and White is up a solid pawn. It's worth a moment to see how so many of those other moves stop White from getting away with that!] 4...Nf6 [The fairly old 4...d6 still lives,; as does the modern attempt to get out first: 4...Bc5; and 4...Nge7 is the only move with a plus score here, over couple thousand instances.] 5.Bxc6 [White could wait a move and maybe get a slightly better version of exchange variation: 5.0-0 "Commital" (just joking, maybe) 5...Be7 a) There are various modern lines, popular at the highest level (i.e. Carlsen & Others): 5...Bc5; b) or 5...b5 6.Bb3 Bc5 (or 6...Bb7) ; c) and the Open Variation, 5...Nxe4 , remains an enigma to Ruy Lopez players looking for some theoretical advantage.; 6.Bxc6 (6.Re1 is of course the massively analyzed and played Main Line.; 6.d3 is the big thing lately but has a long way to go to replace 6.Re1 as most played)) 6...dxc6 7.d3 So now White's knight *and* bishop are on suboptimal squares, and may require repositioning. In short, the time lost to White's Bb5-a4xc6 is recovered.] 5...dxc6 6.d3 Bd6 (in one move) 7.Nbd2 Favored by Naka and Ding. 7...Be6 8.h3 [Relevant: 8.0-0 0-0 (8...Nd7 9.b3 Qe7 10.Nc4 f6 11.Bd2 0-0 12.Nh4 g6 13.g3 b5 14.Ne3 f5 Black got in the f-file pawn break before White, but it just led to some weaknesses. 15.exf5 gxf5 16.Qh5 Qf7 17.Qxf7+ Rxf7 18.Nf3 h6 19.Ng2 Kh7 20.Rfe1 Bd5 21.Nfh4 c5 22.c4 Bc6 23.f4 e4 24.Ne3 Raf8 25.Nexf5 1-0 (37), Nakamura,H (2736) -Abdusattorov,N (2627) Chess.com INT 2021) 9.b3 Nd7 10.Bb2 b5 11.d4 The other pawn break at White's disposal, but the highest rated player of all time held the line. 11...f6 12.h3 c5 13.d5 Bf7 14.a4 Nb6 15.c4 c6 16.Nh4 Re8 17.Nf5 Bf8 18.Qg4 Kh8 19.f4 exf4 20.Qxf4 bxc4 21.bxc4 cxd5 22.cxd5 Qb8 23.Qh4 (23.d6!? Be6 24.Nxg7! Bxg7 25.Bxf6 is difficult for Black) 23...Nxd5 24.Rab1 Qb4 25.Bc1 Qxa4 26.exd5 Qxh4 27.Nxh4 Bxd5 1/2-1/2 (59) Nakamura,H (2708)-Carlsen,M (2810) Wijk aan Zee 2010] 8...Qe7 Keeping an eye on castling queenside
[8...Nd7 is the orthodox sort of move.]
9.Ng5N
[Only one other game: 9.Qe2 Nd7 10.Nc4 f6 11.Bd2 0-0-0 12.a4 g5 13.Nh2 Bc5 14.Ne3 Nf8 15.Nhf1 Ng6 16.g3 Qd7 17.Qf3 Rhf8 18.Nf5 Bd4 and White probably wished he had castled somewhere (he never did): 0-1 (38), Pranav,V (2315)-Pranesh,M (2333) Visakhapatnam 2019]
9...Bd7 10.Nc4 Bc5?!
Stay! [10...b5 keeps the balance.]
11.Nf3 Bd6
A redfaced return.
12.Qe2
White also decided to head West with his king.
12...0-0-0 13.Be3
13...Ng8?!
Black is confused and runs toward his own goal. [13...h6]
14.0-0-0!?
[Engines like 14.0-0]
14...f6
15.Nxd6+!
A clearheaded assessment of the chances. Superficially this helps Black, but Whitehead sees that now there are attacking avenues. Note the opposite colored bishops ("favor the attacker").
15...cxd6
[15...Qxd6 16.d4]
16.d4?!
[16.Bb6 Re8 17.Nd2 Be6 18.Qe3 does bring the wood around to the queenside, but there isn't necessarily a way in.]
16...Kc7?
[16...exd4 17.Bxd4 c5 18.Bc3 Bb5 puts out the fire and activates his pieces, when it's starting to be White's that look a bit off.]
17.dxe5?!
[17.Qc4!+- exd4 18.Nxd4 when of course the pawn is poisoned to a discovered attack.]
17...dxe5?!
giving White a free hand on the queenside dark squares. [17...fxe5! , followed by ...c5 on most moves, patches things up pretty well, although White still holds a solid edge.]
18.Qd2
[18.Qc4 is a better way in: 18...Be6 19.Qc3 Rxd1+ 20.Rxd1 b6 21.b4 intending a4-a5, and the dark squares crumble.; 18.Ba7!? followed by Qe3 is another way to proceed.]
18...g5??
Black folds. [18...b6 The a-pawn isn't hanging like that other line 19.a4
(19.b4 Nh6)
19...a5 probably won't hold either, but puts up a better fight.]
19.Qa5+! Kc8 20.Bc5 Qf7 21.Bd6
ouch. The dark squares are hurting.
21...Be6
22.Bxe5! Ne7?!
Losing immediately, but it was hard to find a move with mate threatened on d8.
23.Qc7#
Very forceful finish by Paul.
1-0
(3) Nathan Fong (nathanf314) (2211) - Shaashwath Sivakumar (Dontmesswithme_2) (2297) [B90]
Live Chess Chess.com, 06.04.2021
[de Firmian]
1.e4 c5 2.Nf3 d6 3.d4 cxd4 4.Nxd4 Nf6 5.Nc3 a6 6.h3 What to call this? Commonly known as the Byrne Variation after Robert Byrne, it was played earlier by Lombardy and even Fischer, but also decades before by the creative if offbeat Weaver Adams. Still the modern interpretation is light-years away from those beginnings. 6...e5 These days people play the Boleslavsky pawn advance against almost everything, except 6.Bg5 and 6.Bc4. 7.Nde2 h5
Black cuts across one of the main points of 6.h3, to advance the g-pawn two squares in one move.But the move comes with a price of course.
8.Bg5
A very popular positional approach, playing to conquer square d5.
8...Be6 9.Bxf6
Before Black can get ...Nbd7 in, to recapture with the knight. But it is funny how Black couldn't play ...h6 if he wanted to challenge the bishop -- and White exchanges anyway!
9...Qxf6 10.Nd5 Qd8 11.Nec3
[The finesse 11.Qd3!? (from Anand's home preparation) with 0-0-0 quickly available is more of a problem according to D.Vigorito's recent Najdorf book, although it appears he keeps Black afloat.]
11...g6
Black delays bringing out his knight, and takes advantage of the knight on d5 blocking the d-file to head elsewhere with the dark squared bishop, plus guarding h5 for now and supporting a later ...f5; exf5 gxf5. But there's another reason...
12.Qf3!?
extremely rare, but sensible -- f6 after all has been weakened. But maybe Black shouldn't be bothered by that. [12.Bc4 is almost always played, when 12...Bh6!? is the big choice as well. 13.0-0 0-0 14.Bb3 and even here, where to put that knight isn't clear; Vigorito heads for d7, although 14...Nc6 seems to be winning out in late ballots.]
12...Bg7
[The only other games saw Black unconcerned about the f6 square (perhaps more concerned about White castling): 12...Bh6!? is probably the move an MVL or Giri would play. 13.Bc4 0-0 14.Rd1 Nc6 15.Bb3 Nd4 16.Qd3 Rc8 17.0-0 Kh7 18.Ne3 Qh4 19.Ncd5 f5 and the higher rated player only drew: ½-½ (61) Munoz,L (1953)-Oliynyk,V (2345) ICCF email 2017; 12...Nd7 first is plausible, but allows White to castle: 13.Be2
(13.0-0-0!
as per the above discussion.
)
13...Bh6 14.g4?! h4!=/+ 15.Rg1?! Bg5-/+ Black is doing fine, but as so often, the rating system proved its predictive value again. 16.Rd1 Rc8 17.Ne3? Rc6
(17...Qb6!-+)
18.Bf1?! Qb6 19.Ncd5 Qxb2 20.Nc4 Qxa2 21.Qc3 Qa4
(21...b5! 22.Nb4 Rxc4 23.Nxa2 Rxc3 24.Nxc3 Ke7-+)
22.Ra1 Rxc4 23.Bxc4 Qc6 24.Qd3 Nc5 25.Qe2 b5?? Black was still winning but now, 26.Rxa6!+- and White didn't stumble: 1-0 (36) Brandt,C (2066)-Moenster,M (1730) Germany 2018]
13.0-0-0
The engines are completely uninterested in castling queenside and even put Black having some advantage.
13...Nc6 14.Kb1 Nd4
An empty gesture -- in a few moves the knight would prefer to be aiming at e5. [14...b5!?]
15.Qg3 Rc8
[15...h4!]
16.Bd3 b5 17.f4 exf4 18.Nxf4
18...Rxc3?!
We must remember this is a 5m2s game, but still, both players know their opening and had barely spent any time (White less than a minute, Black just over half a minute). [18...Be5! first, *then* you can get clever and give up the exchange if you must: 19.Qf2
(19.Qe3 Qg5 20.Rhf1 0-0
leans in Black's favor, what with the dark squares so under control
)
19...Rxc3! A completely different story! 20.bxc3 Nc6! The game seems to be equal, similar to early Yugoslav Dragons where both sides launch their attacks, and one or the other sets up a perpetual. 21.Nxe6 fxe6 22.Rdf1 Qa5!? 23.Qf7+ Kd8 24.Kc1 Qxc3 25.Kd1 Every move is "0.00", so there doesn't seem to be much more for it.]
19.bxc3
19...Nc6?
Black must have been more concerned with not using any time than with what was about to happen. This just loses. [He had the fascinating 19...Bxa2+! 20.Kxa2 (forced) 20...Qa5+ 21.Kb1
(21.Kb2?? b4!
is a disaster for White.
)
21...Nf5! when White gets a lot for the queen after 22.exf5 Bxc3 23.Qe1+! Kd8 24.Qxc3 Qxc3 25.Nd5! with a fair chance of still coming out on top]
20.Nxe6 fxe6
There were no tricks now
21.Qxg6+ Kf8 22.Rhf1+ Kg8 23.Qf7+ Kh7 24.Qxh5+
all the pawns go
24...Kg8 25.Qf7+ Kh7 26.e5+!
As always, it's dangerous waters in the Najdorf, and this game was an example of the latest species of poisionous jellyfish. A wild battle!
1-0
Watch an Arena by following this link: https://www.youtube.com/watch?v=kW1qAuoY6dw
Read below to join next week's arena!
---
Take on the Mechanics' Chess Staff Live on Twitch!
The chess room staff at the Mechanics' Institute are taking on all comers now weekly, as each of us will live stream an arena tournament where we will commentate our own games! You might be playing 3-time US Champion GM Nick de Firmian, or perhaps our commentator and instructor extraordinaire FM Paul Whitehead.
Arenas are an hour long, and the chess staff will be paired against the first available player to play at the conclusion of their games. All other players will be paired with the next available opponent. This will continue for the whole hour. While there is no guarantee you will be paired against a chess staff member, you will have a very good chance at it, depending on the number of players playing. All games will be streamed live on our Twitch channel: https://www.twitch.tv/mechanicschess
GM Nick de Firmian/FM Paul Whitehead Arena: Tuesdays 5pm-6pm, 4/13: https://www.chess.com/live#r=1092358
See you in the arena!
---
Mechanics' Institute Regular Online Classes
---
Mechanics' Institute Regular Online Events Schedule
The Mechanics' Institute Chess Club will continue to hold regular online events in various forms. Here is the upcoming schedule for players:
Past Club Tournament results are here:
Before playing in our online tournaments, be sure to do the following:
Any questions? [email protected]
---
Scholastic Corner
By Judit Sztaray
2) USCF Online Rated Tournaments on the weekends
4/11 Sunday - 5SS G/15+5 affecting USCF Online Rapid rating: 2021 US Junior Chess Congress Booster Side Event
More information: https://www.milibrary.org/juniorchesscongress
Register online: https://mechanics-institute.jumbula.com/2021OnlineTournaments/2021JuniorChessCongressBoosterSideEventonChessKid
4/18 Sunday - 8SS G/5+2 affecting USCF Online Blitz rating.
More information: https://www.milibrary.org/chess-tournaments/uscf-online-rated-scholastic-tournaments-2021-chesskidcom
Register online: https://mechanics-institute.jumbula.com/2021OnlineTournaments/ScholasticOnlineRatedTournamentApr18SUN

Scholastic Game of the Week: Annotations by GM Nick de Firmian
(4) AwesomeHat (1311) - tcm89 (1589) [C30]
Live Chess ChessKid.com
[de Firmian]
1.e4 e5 2.f4 The King's Gambit! A brave opening even if it is considered a bit suspect these days. 2...d6 This is passive but not too bad. tcm89 declines the gambit and the crazy complications that go along with it. 3.d3 h6?! This doesn't help much. Better to use the move to develop one of the knights or get more control of the center. 4.Nf3 Nf6!?
5.f5?!
This takes the pressure off Black's center. A developing move or [5.fxe5 dxe5 6.Nxe5 is better, though 6...Bc5! would be some play for the pawn.]
5...b6 6.Be3 Bb7 7.Be2 Nbd7
This is reasonable development. Black gets the pieces out harmoniously and eyes the center.
8.Qd2?! Ng4
[8...d5! would take control of the center]
9.Nc3
[9.Bg1!]
9...Nxe3 10.Qxe3 c6 11.0-0-0 Be7 12.g3 Qc7 13.Nh4?
Oh no! AwesomeHat needed to play 13. Kb1 first to keep everything safe.
13...0-0-0? 14.Bh5? Bg5!
Now tcm89 sees it! Pinning the queen wins the game. 15.Qxg5 [15.Qd2 would at least get a piece for the queen. Now one of the white minors gets lost.] 15...hxg5 16.Nf3 Rxh5 17.g4 Rh6 18.Nxg5 Down a queen for a pawn, AwesomeHat needs to play like Kyron Griffith. 18...Rf8 19.h4 f6 20.Nf3 Qd8 21.h5 b5 22.a3 Nb6 23.d4 exd4 24.Rxd4 c5 25.Rd3 a6 26.Ne1 Re8 27.Re3 d5! opening up the game is the quickest route to victory 28.Ng2 d4 29.Rd3 Bxe4 30.Nxe4 Rxe4 31.Rh4 c4 32.Rd1 d3 33.cxd3 cxd3 34.Ne1 d2+! tcm89 won by resignation 0-1
---
Finishing Tactics from the World Championship Matches 9: Lasker – Schlechter 1910.
FM Paul Whitehead
Lasker kept his title in this tied match (+1 -1 =8), holding off a powerful performance by the Austrian defensive master Carl Schlechter. A real mystery hangs over this contest: did Schlechter push so hard in the 10th and final game because the challenger needed +2 to take the match? Unlikely, as no hard evidence exists. Perhaps, as has been suggested, he wanted to prove his win in the 5th game was no fluke. What remains is a World Championship as closely contested as any, with Lasker's characteristic grit and pluck saving an almost hopeless situation right at the very end.
----------
This match featured hardly any tactical 'bolts from the blue'. The players were careful. Both had missed opportunities. The problems presented below are perhaps a bit different than what we've seen before.
----------
1. Schlechter – Lasker, 1st Match Game 1910.
Black moves. White threatens c2-c4, followed by Kf4, and things look very tough for black. What did Lasker do to save the game?
----------
2. Lasker – Schlechter, 2nd Match Game 1910.
Black moves. Is 1…Rxb5 playable?
----------
3. Schlechter – Lasker, 5th Match Game 1910.
White moves. Seize the chance to knock the World Champion out.
----------
4. Schlechter – Lasker, 9th Match Game 1910.
Black moves. Lasker is on the verge of winning the c4 pawn (and the game). His king is in check. Where should he go?
----------
5. Lasker – Schlechter, 10th Match Game 1910.
Black moves. Again black is in check, and a move must be played…
---
GM Nick de Firmian
Nick's column will resume next week.
---
Solutions
1. Schlechter – Lasker, 1st Match Game 1910.
1…Re4!! sacrificing yet another pawn, was Lasker's powerful idea. After 2.Rc5 Kf6 3.Rxa5 Rc4! the activity of black's king and rook was fully maximized. Schlechter tried the passive approach with 4.Ra6+ Ke5 5.Ra2, but after 5…Ke5 6.Rb2 Rc3+ 7.Kg2 Kf6 8.Kh3 Rc6! preventing 9.Ra6+, there was no way forward. Schlechter pitched the c-pawn to free his rook, but the game is then totally drawn: 9.Rb8 Rxc2 10.Rb6+ Kg7 11.h5 Rc4 12.h6+ Kh7 13.Rf6 Ra4 ½ - ½.
----------
2. Lasker – Schlechter, 2nd Match Game 1910.
At first sight it seems that 1…Rxb5 nets 2 pieces for a rook: if 2.Ra8+ Kd7! 3.Rxh8 Rxb3, and black should win. The fly in the ointment is 2.Ba4! After 2…Bd7 3.Bxb5 Bxb5 4.Re1, Capablanca asserted that black must lose a piece. However, this does not seem to be the case, as 4…Kf8! (Stockfish) allows black to hold by a whisker. Schlechter, however avoided all of this by simply castling, and after 1…0-0 2.Ba4 c4 (If 2…Bd7 then 3.c4! dxc4 4.Nc3 and white is OK) 3.Ra2 Bc5+ 4.Kh1 Bd7 Lasker uncorked another tricky move with 5.Bd6! Now 5…Rxb5!? 6.Bxf8 Bxf8 7.Bxb5 Bxb5 (Capablanca) would have led to a fascinating struggle of 3 minor pieces vs 2 rooks. But the 'Drawing Master' (as Schlechter was known) chose peace instead: 5…Bxd6 6.Nxd6 Rb6 7.Bxd7 Nxd7 8.Nf5 Re8 9.Ra7 Nf6 10.Ra2 g6 11.Nd4 Rfb8 12.Rf2 Nd7 13.h3 Nc5 14.Rd2 Nd3 15.b4 cxb3 16.Nxb3 Rxb3 17.Rxd3 Rc8 18.Rxd5 Rbxc3 ½ - ½.
----------
3. Schlechter – Lasker, 5th Match Game 1910.
Lasker has had all the chances, but under pressure from a vicious counterattack has overplayed his hand. The challenger drew first blood with 1.Qa6! Infiltration, and with the deadly threat of 2.Rc8+. Black could have tried 1…Qb6 2.Qc8+ Kd6 3.Ra6 Qxa6 4.Qxa6+ Kc5, to make a fight of it with rook and 2 passed pawns vs the queen (Capablanca), but black is lost in any case. Lasker tried another way: 1…Rb8 2.Ra7+ Kd8, but white is attacking from all sides, and it was over after 3.Rxg7 Qb6 4.Qa3 Kc8 and 1-0. It is mate in 3 starting with 5.Qc8+.
----------
4. Schlechter – Lasker, 9th Match Game 1910.
Lasker slipped up with 1…Kc7? and was unable to escape the dance of the white knight: 2.Ne6+ Kc6 3.Nd8+! Now black avoids the repetition, but in doing so must drop a pawn. The game was soon drawn: 3…Kd7 4.Nxg7! A classic 'desperado' sacrifice. 4…Ke7 5.Nh5 Rxc4 6.Re3+ Kf7 7.Rf3+ Kg6 8.Rf6+ Kxh5 9.Rxd6 ½ - ½. Instead, 1…Kb6! would have won the pawn cleanly, and Lasker's formidable technique would certainly have brought the point home.
----------
5. Lasker – Schlechter, 10th Match Game 1910.
In one of the most dramatic showdowns in chess history, Schlechter blew it with 1…Kc7? allowing the World Champion to exchange queens and a technical win: 2.Qc2+! Qxc2 3.Rxc2+ Kb7 4.Re2 Nc8 5.Kb3 Kc6 6.Rc2+ Kb7 7.Kb4 Na7 8.Kc5 1-0. Avoiding the exchange of queens was correct, and 1…Kd8! or 1…Ke8! would have made the win for white all but impossible.
---
Submit your piece or feedback
We would welcome any feedback, articles or "Letter to the Editor" piece. Submit yours today through this Google Form:
---
You can browse through our archived newsletters using the "next" and "previous buttons".
Want to save this newsletter for reading at a later time? Click here to learn how.
Want to be notified when the next newsletter is published? Join Our Email List →