Newsletter #999
December 18, 2021
Table of Contents
---
Mechanics' Chess Newsletter 1000 Will be Released on Saturday January 1, 2022!
The Mechanics' Institute chess newsletter will celebrate it's 1000th issue on January 1st! Begun more than 20 years ago by Mechanics' longest-serving Chess Director IM John Donaldson, we will have a very special issue with special guest contributors.
Ring in the New Year with a very special edition of the chess newsletter, coming very soon! We will not have a newsletter released on Christmas Day.
---
Mechanics' December Championship Quads Report
by Abel Talamantez
We had 56 players participate in the December edition of the Mechanics' Championship Quads. It was a strong field which had balance from top to bottom, making it suitable for players of all levels. The top quad saw a split in prize between Abhishek Mallela (2113) and National Rockefeller Elementary School Champion Henry Deng (2095). Click here to see the full results: http://www.uschess.org/msa/XtblMain.php?202112116052-16681298
Final Standing of the 2021 December Mechanics' Monthly Quads
---
TNM Round 7 Report
by Abel Talamantez
Here we go, one round to go in the final TNM of 2021, and it looks like round 8 will decide the top spots in both sections. Nathan Fong held on to a draw in a tight endgame against IM Elliott Winslow as Fong was defending king and light squared bishop against king pawn and light squared bishop. Winslow tried to test Fong's defenses, but Fong seemed to know the position, making it impossible for Elliott to promote unharmed. Christophe Bambou got a win against Nicholas Weng, setting up a final round match to determine the winner between Winslow 6/7 and Bambou 5.5/7.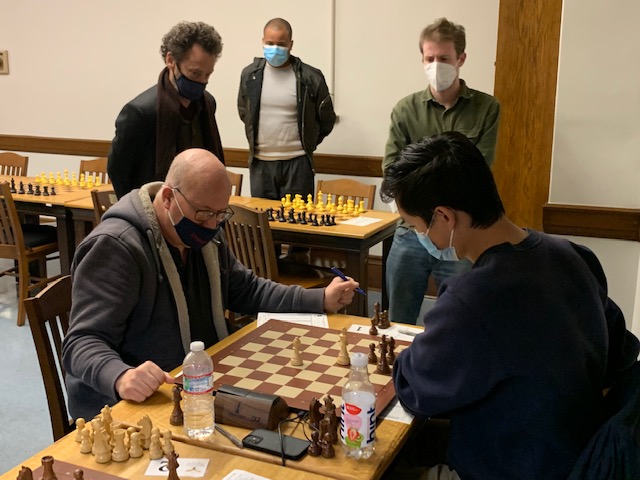 In the under 1800 section, Yuvraj Sawhney continues to rise quickly, as he defeated top seed Adam Mercado to take sole 1st with 6/7. Mercado, Adam Ginzburg and Timothy Bayaraa are close behind at 5.5/7.
Watch the broadcast by clicking HERE.
Here are some games from the round, annotated by GM Nick de Firmian.
(1) Fong,Nathan (2522) - Winslow,Elliott (2032) [E69]
MI Nov-Dec 2021 TNM 1800+ San Francisco (7.1), 14.12.2021
1.d4 Nf6 2.Nf3 g6 3.g3 Bg7 4.Bg2 0-0 5.0-0 d6 6.c4 Nbd7 7.Nc3 e5 8.e4 The Classical Fianchetto Variation 8...c6 9.h3 a6 Total on-the-spot improvisation. [9...Qb6 is usual] 10.Qc2 Qc7 11.Be3 exd4 12.Nxd4 Ne5 13.b3 c5 14.Nde2 Rb8 15.Nf4
White has gotten a little edge from the opening. 15...b5 16.Ncd5 [16.cxb5 axb5 17.Rad1 b4 18.Ncd5 Nxd5 19.Nxd5 Qd8+/=] 16...Nxd5 17.Nxd5 Qd8 18.Rab1?! bxc4?! no reason to open the b-file just now [18...Be6] 19.bxc4 Be6 20.Qa4?! [20.Rxb8 Qxb8 21.Rb1 Qa7 22.Qa4+/=] 20...Qd7!=/+ Nice! The endgame is very comfortable for Black. 21.Qxd7 Bxd7 22.Nb6 Be6 23.Bf4 Rb7 [23...Rfd8 24.Bxe5 Bxe5 25.Rb3 Bd4] 24.Bxe5 Bxe5 25.Rb3 Rfb8 26.Rfb1 Kg7 27.Nd5
"½?" 27...Rxb3? [The earlier intended 27...Bxd5! 28.cxd5 Rb4! 29.Rxb4 cxb4-/+ but Elliott forgot about it when he got here.] 28.Rxb3 Rxb3 29.axb3 a5 Despite Black's best attempts, this is just even. 30.Kf1 Bd7 31.Ke2 a4 32.bxa4 Bxa4 33.Kd3 Bd4 34.f4 Bd1 35.Nc7 Bf2 36.Ne8+ Kf8 37.Nxd6 Bxg3 38.Nb7 Bxf4 39.Nxc5 Ke7 40.Kd4 White has isolated pawns and Black has the bishop pair, but there is little to be done in this drawn position. 40...g5 41.Nd3 Bg3 42.e5 g4 43.hxg4 Bxg4 44.c5 h5 45.c6 h4 46.Kd5 h3 47.Bh1 Be2 48.Nc5 Bg4 "½-½?" 49.Ne4 Be6+ 50.Kd4 Bh2 51.Kc5? giving up the e-pawn 51...Bxe5 52.Kb6
52...Bd5 53.Kc5 Be6 [53...Ba2 54.Kb6 h2 55.c7 Bxc7+ 56.Kxc7 Bd5 57.Nf2 Bxh1 58.Ng4! Bg2 59.Nxh2 f5 60.Kb6 Kd6 61.Kb5 Kd5 62.Kb6 Ke5 63.Kc5 Kf4 64.Kd6 Kg3 65.Ke5 f4 66.Kf5 is a draw] 54.Kb6 Bc8 55.Kc5 Ba6 56.Kb6 Bf1 57.c7 Bxc7+ 58.Kxc7 Bg2 59.Nf2 Ke6 60.Nxh3 Bxh3 61.Kc6 Ke5 62.Kc5 Be6 63.Bg2 f5 64.Bf3 Kf4 65.Bc6 Ke3 66.Kd6 Bc8 67.Ke5 f4 68.Kf6 Bg4 69.Kg5 Bf3 70.Bb5 Bd1 71.Bc6 Bc2 72.Kg4 Be4 73.Bb5 f3 74.Kg3 Bc2 75.Bc4 Bd1 76.Bf1 Be2
Black is getting close, but it's still a draw 77.Bg2! f2 78.Bh3 Bc4 79.Bg2 Be6 80.Bf1 Bd5 81.Bh3 Ke2 82.Bg4+ Ke1 83.Bh3 Bc4 84.Kf4 Bf1 85.Be6 Bg2 86.Bc4 Bd5 87.Bb5 Bb3 88.Ke3 Ba4 89.Bc4 Bc6 90.Bd3 Bg2 91.Bc4 Bf1 92.Bd5 Bh3 93.Bc4 Bf1 94.Bd5 Bb5 95.Bg2 Bc6 96.Bh3 Bb5 97.Bg2 Bc6 ... ½-½, 117 1/2-1/2
(2) Weng,Nicholas (2001) - Bambou,Christophe (2097) [B40]
MI Nov-Dec 2021 TNM 1800+ San Francisco (7.2), 14.12.2021
1.e4 c5 2.Nf3 e6 3.d4 cxd4 4.Nxd4 Nf6 5.Bd3 Black gets simple equality after this move. 5...Nc6! 6.Nb3 d5 7.exd5 Nxd5 8.a3 [Previously seen was 8.0-0 Bd6 9.N1d2 0-0 10.Ne4 Bc7 11.Ng5 f5 12.c4 Ndb4 13.Be2 Qf6 14.a3 Rd8 15.Bd2 Nd3 16.Bxd3 Rxd3 17.Qc2 Rd8 18.Nf3 Bd7 19.Rfe1 e5 20.Bg5 Qg6 21.Bxd8 Rxd8 22.Rad1 e4 23.Nfd4 Ne5 24.Nc5 Bc8 25.h3 Rxd4 26.Rxd4 Nf3+ 27.Kf1 Nxd4 28.Qd2 Qd6 29.b4 b6 30.Rd1 bxc5 31.bxc5 Qxc5 32.Qxd4 Qxd4 33.Rxd4 Bb6 34.c5 Ba6+ 35.Ke1 Bxc5 36.Rd7 Kf8 37.a4 Bb6 Nandhidhaa,P (2365)-Antolak,J (2306) Chess.com INT 2021 0-1] 8...Be7 9.0-0 0-0 10.c4 Nf6 11.Re1
11...e5N 12.Nc3 Be6 13.f3 h6 14.Be3 b6 15.Kh1 Rc8 16.Qe2 Nd4?! [16...Rc7 17.Rad1 Rd7=] 17.Bxd4 exd4 18.Nb5+/-
It looks like White is weak on the dark squares, but the weak black pawn on d4 is a bigger factor. 18...Bd6 19.Nxa7?! [19.N3xd4!+- wins the pawn *and* reduces Black by a bishop.] 19...Nh5? [19...Bxh2!? 20.Kxh2 Qc7+ 21.g3 Qxa7 22.Nxd4+/-] 20.Qe4! [20.Nxc8] 20...g6 [20...Nf6 21.Qxd4] 21.Nxc8 Bf4
Black probably knows he's lost, and tries to confuse the issue. 22.Rg1? ...and succeeds! [22.g3! Bxg3 23.Rg1!+- dramatically makes use of the open g-file.] 22...Bxc8! despite the material disadvantage, the position is somewhat in Black's favor. (Computer talking there.) 23.g3 Be3 24.Rgd1?! [24.Rg2] 24...Re8 25.Qd5 Qf6?! [25...Qc7! 26.Bxg6 (best try) 26...Nf6 27.Qxf7+ (27.Bxf7+ Kg7-+) 27...Qxf7 28.Bxf7+ Kxf7 29.Kg2 Rd8 30.Nd2 h5 The material imbalance of two bishops vs. rook and two pawns often, as here, leans towards the Bs.] Note that around here Bambou was really running low on the clock! 26.Be4! White plays to seal it up. 26...Re5
sets up some tricks! 27.Qc6?
[27.Qa8!! Kg7 28.Qxc8 Rxe4 29.Rf1! just holds on! And should draw.] 27...Nxg3+!! 28.Kg2 [28.hxg3 Rh5+ 29.Kg2 Bh3+ 30.Kh2 Bf1#] 28...Nxe4 Bambou used most of his time (that is, almost a minute) but couldn't come up with the fastest win. Now he's running on fumes (seven seconds on his clock!). [28...Bh3+!! 29.Kxh3 Rh5+ 30.Kg2 (30.Kxg3 Qg5#) 30...Qh4! 31.Qe8+ Kg7 32.Qe5+ Rxe5 33.hxg3 Rg5 34.g4 h5 mate in short order. A lot of White spectators!] 29.Qxc8+?! [29.Qxf6 Nxf6 30.Nxd4 Black still has a deadly attack! But with queens off and Black's electronic flag hanging, maybe something will go wrong.] 29...Kg7 Black should be delivering mate here. 30.Qh3 Nf2 [30...Rg5+ leads to mate in eight. 31.Kf1 d3! 32.Rxd3 Qxb2!] 31.Qg3 Rg5 32.Rf1 Rxg3+ 33.hxg3 Nd3 [33...Qe6!?] 34.Rab1 Ne5 [>=34...Qg5 was best, with ...Nf4+ and/or ...Bf4 in play. 35.Kh3
35...Nf4+! 36.gxf4 Bxf4 37.Rg1 Qf5+ 38.Rg4 h5 39.Rf1 hxg4+ 40.Kg2 Qh5 41.fxg4 Qxg4+ 42.Kf2 Qg3+ 43.Ke2 Qe3+ 44.Kd1 Qxb3+ 45.Ke2 Qe3+ 46.Kd1 Qd2#] 35.Rbd1-+ Nxc4 36.Rb1 h5 Where did that come from! [Again, 36...Qg5; Or if he wanted to get a pawn going, how about 36...d3!] 37.Rfd1 h4 38.Nc1 hxg3 [38...h3+! 39.Kxh3 Qxf3 here comes checkmate again...] 39.Ne2 Qh4 40.Rh1 Qg5 41.Rh3 Bf4 42.Rbh1 Ne3+ 43.Kg1 d3 44.Nc3 d2 45.Rh7+ Kf8 Best, although even stepping up to the fork was okay. 46.Rh8+ Ke7 47.Rc8 d1Q+ 48.Nxd1 Nxd1 [48...g2!] 49.Rc2 Be3+ Letting multiple mates slip away for the moment. [>=49...g2! 50.Re2+ Be3+ 51.Rxe3+ Nxe3 52.Rh7 Qg3 53.Rxf7+ Kxf7 54.b4 Qe1+ 55.Kh2 g1Q+ 56.Kh3 Qh1#] 50.Kf1?! Nf2 [50...Qf5] 51.Kg2 Nd3 [51...Nxh1 happens to be the fast mate, too.] 52.Rc7+ Kf6 53.Rh7 Nf4+ 54.Kf1 g2+
with seconds to spare! Great excitement for the watchers! 0-1
(3) Lewis,Edward (2017) - Argo,Guy (1884) [A84]
MI Nov-Dec 2021 TNM 1800+ San Francisco (7.4), 14.12.2021
1.d4 f5 2.c4 Nf6 3.Nf3 e6 4.g3 b6 5.Bg2 Bb7 6.0-0 Be7 7.Nc3 0-0 8.Qc2 Qe8 9.Bf4 Na6
We have a fighting Dutch/Queen's Indian Defense. Lots of activity can come of this position. 10.a3 Qh5 11.b4 d6 12.h4 h6 13.Ne1!? Bxg2 14.Kxg2 e5?! aggressive play by Guy, but it gives too little compensation for the pawn and loses the center. 15.dxe5 dxe5 16.Bxe5 Ng4 17.Nf3 f4
18.Nd5! Rae8 19.Bd4? [19.Bxf4 is just two pawns up and winning] 19...c5 20.Bb2 fxg3 now Black has serious play on the kingside 21.Nxe7+ Rxe7 22.Kxg3 cxb4 23.c5! playing actively often brings you chances 23...Nf6!? [23...Qf7!] 24.Bxf6 Rxf6 25.Qc4+ Kh7 26.Qxa6?
[26.axb4!] 26...bxc5? [26...Re4! 27.Qd3 Rxf3+! 28.Qxf3 (28.exf3 Qxh4+ 29.Kg2 Qg5+ 30.Kh2 Qh5+ 31.Kg3 Qg6+ 32.Kh3 Rh4+ 33.Kxh4 Qxd3 is a huge advantage for Black) 28...Qxh4+ 29.Kg2 Rg4+ 30.Qxg4 Qxg4+ 31.Kh2 bxc5 and Black should win the endgame] 27.Qd3+ Qg6+ 28.Qxg6+ Rxg6+ 29.Kh3 Now White has all the chances in the endgame. 29...b3 30.Rab1 c4 31.Nd4 Rb6 32.Rfc1 Rc7 33.Rc3 Ra6
34.Rbxb3?? looks like it wins a clean pawn due to the pin, but there is a flaw 34...cxb3 35.Rxc7? [35.Rxb3 gives some chance of drawing] 35...b2! Here Lewis resigned as saw there is no way to stop the b-pawn from queening. 36. Rb7 Rb6 blocks the white rook. A tragedy for Edward after a fine fighting struggle. 0-1
(4) Stafford,Adam (1745) - Riese,Kayven (1900) [B56]
MI Nov-Dec 2021 TNM 1800+ San Francisco (7.7), 14.12.2021
1.Nf3 c5 2.e4 d6 3.d4 cxd4 4.Nxd4 Nf6 5.Nc3 Nbd7 Kayven's signature but suspect variation. 6.g4! h6 7.h4 a6 8.Rg1 Nc5 9.Qe2 Nice preparation from Adam. White has a clear opening edge as he controls the black knights. 9...e5 10.Nf5?! The aggressive looking move starts trouble for White. [10.Nb3!+/-] 10...g6!
11.Nxh6?! [11.Ne3 Ncxe4 12.Nxe4 Nxe4 13.Bg2~/=] 11...Bxh6 12.Bxh6?! [12.g5 Nfxe4 13.Nxe4 Bg7-/+] 12...Rxh6 13.g5 Rxh4 14.gxf6-+ Black now has control of the game 14...Qxf6?! [14...Bd7! 15.0-0-0 Bc6-+ is the best setup for the black pieces; 14...Be6 15.0-0-0 Rc8-/+] 15.Nd5?! [15.f3] 15...Qd8-+ 16.Bg2 Be6 17.0-0-0 Bxd5 18.Rxd5-+
Extra pawn, good knight vs. bad bishop... 18...Qc7 [18...Qg5+! 19.Kb1 Ke7!] 19.Rgd1 Rd8 20.Qe3 Rf4 21.Rh1 Ke7 22.Rh7 Ne6 23.Qg3 Rf6 24.c3 Nf4 25.Rd2 Qc4 26.Kb1 Rc8 27.Rh1 Qb5 28.Bf1 Qc6 29.Bd3 Qb6 [Usually you don't want to give up a good knight but 29...Nxd3 30.Qxd3-+ g5! is a good plan] 30.Bc2 Ne6?! [30...a5] 31.Bd1 Nc5 32.Bc2 Qc6 33.f3 b5?= [33...Rg8-/+] 34.Rhd1 White has gotten his pieces coordinated well to gain equal chances. 34...Qb6 [34...Rg8] 35.b4
35...Nb7?! [35...Na4 36.Bxa4 bxa4= 37.f4 Rxf4 38.Rxd6 Qxd6 39.Rxd6 Kxd6] 36.f4?! [36.Rd3+/- Rf4 37.Qg5+ Kf8] 36...exf4? [36...Rxf4= 37.Qg5+ Ke8 38.Rxd6 Nxd6 39.Qxe5+ Kf8 40.Qh8+ Ke7 41.Qe5+=] 37.Qg5+- (+2) [37.Qh4! (+6)] 37...Rc6?
[37...Qe3!?] 38.e5! dxe5 39.Rd7+ Ke6 [39...Ke8 40.Qxe5+ Kf8 41.Rh1] 40.R1d5?= missing [40.Bf5+! gxf5 41.Qg8 with mate in 5] 40...Qe3? [40...Nd6!= 41.R7xd6+ Rxd6 42.Qxe5+ Kd7 43.Qxf6 Qg1+ 44.Kb2 Rxd5 45.Qxf7+ Kd6 46.Qxf4+ should be a draw 0.00/0 ] 41.Bb3 Plenty good enough. 41...Rc4 42.Bxc4 bxc4 43.Rxe5+! Qxe5 44.Re7+ Kxe7 45.Qxe5+ Re6 46.Qc7+ Kf8 47.Qxb7 Queen against rook should be little problem to win despite the black pawns, 47...Rf6 48.Qc8+?! [48.Qf3!] 48...Kg7 49.Qxc4 [49.Qc5! f3 50.Qf2] 49...f3 50.Qf1 g5 [50...f2] 51.Qf2 Kg6 52.Kc2 g4 53.Kd2 Kg5 54.c4 Rf4 55.Kd3 f5 56.a3 Re4 57.c5 Kf4 [57...Re2 58.Qf1 Kf4 59.c6] 58.Qh2+ taking away Black's last hope of pushing the pawns 58...Kg5 [58...g3 59.Qh4+ Ke5 60.Qxg3+] 59.c6 Re6 60.c7 Rc6 61.Ke3 Rc4 62.Qd2 A great battle. 1-0
---
How Club Chess Can Be Like Sports
by Abel Talamantez
There can be so much more to a chess game than what is on the board, and it doesn't take a master to enjoy and appreciate riveting drama that brings all the excitement equivalent to watching a compelling sports competition. During last weekend's Championship Quads, I was watching a game between Daniel Wang (1715) playing white against Yuvraj Sawhney (1612). Here is the position.
An engine can look at this position and calculate optimal moves, but that won't begin to tell the tale of what was happening. Daniel Wang has the white pieces, but has two seconds left in a G/30;d5 time control while Yuvraj has a little more than six minutes. White's pawn is looking to promote, and I was wondering if black would look to sacrifice the rook for the pawn and force white to mate with king, bishop and knight in under 50 moves. But I noticed in black's moves that that was not the strategy. Black was looking to continue checking the king in hopes of white losing on time. If black sacrificed the rook, a win would not be possible due to insufficient mating material. The moves were frantic and you could see the pressure on both players' faces. There were a few people spectating the game, looking at players, looking at the position, and looking at the clock, and it all was a treat. The chess may not have been precise, but it was as exciting as any club chess game could be.
What was the result? Unfortunately for black, white was able to create a block with the knight to force promotion and won the game, keeping his 2 seconds on the clock by finding the win within the delay. Kudos to white for finding the winning combination, kudos to black for going for the win, even if the strategy may not have been the best. Who said club chess wasn't fun?
---
You can browse through our archived newsletters using the "next" and "previous buttons".
Want to save this newsletter for reading at a later time? Click here to learn how.
Want to be notified when the next newsletter is published? Join Our Email List →