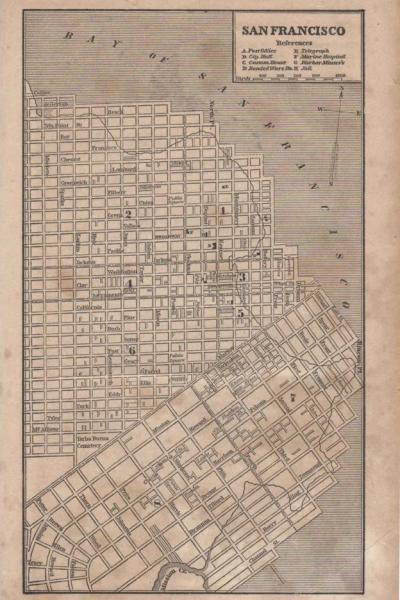 As artifacts of our history, maps of San Francisco illustrate the growth patterns, politics, and aspirations of city planners over the years. The four historic maps, currently on exhibit in the 2nd floor's archival display cabinet, demonstrate the development of an urban San Francisco between 1868 and 1929.
The maps on exhibit are:
Railroad Map (1868)
Chinatown Map (1929)
San Miguel City Map (1900)
City and County of San Francisco Map (1910)
Many thanks to our friend and MI member, Charles Fracchia, for the loan of these maps from his personal collection for this exhibit. Charles is a Fellow of the California Historical Society, and the Founder and President Emeritus of the San Francisco Museum and Historical Society.
Additional resources about San Francisco maps, in our collection, that you may wish to check out are:
557.94 L42 (Special Collections*) - Geologic atlas of the United States, San Francisco folio, California : Tamalpais, San Francisco, Concord, San Mateo, and Hayward quadrangles / Andrew C. Lawson
912.794 S19L (Special Collections*) - Land value maps : 1926-1927 / Issued under authority of the Advisory Committee to the Board of Equalization
912.7946 S688 - Infinite city : a San Francisco atlas / Rebecca Solnit
912.7946 W88 - San Francisco in maps & views / Sally B. Woodbrige
917.794 F67 (Special Collections*) - San Francisco Bay and California in 1776 : three maps with outline sketches reproduced in facsimile from the original manuscript / drawn by Pedro Font
979.46 S78 - Who discovered the Golden Gate? The explorers' own accounts, how they discovered a hidden harbor and at last found its entrance / Frank M. Stanger and Alan K. Brown
*Special Collections items may only be viewed in the Library due to their size and/or fragility.
The Historic Maps of San Francisco will be on display on the 2nd floor until the end of August.