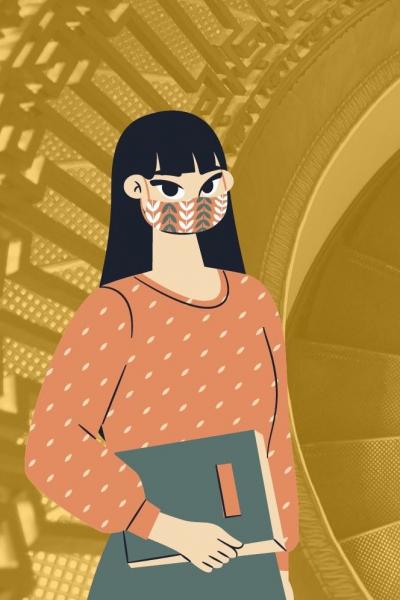 Beginning July 13, members can request available items showing an on-shelf status in the library's catalog, or place a hold on checked out items. Beginning July 20, the library's no-contact service for books, DVDs, etc. pick-ups will be available, by appointment only, Monday, Wednesday, and Friday from 12-4 p.m. in the 2nd Floor lobby. You can return library materials to the lobby book drop anytime between 8 a.m. - 6 .p.m. Monday-Friday or when you pick up your To Go items.
Previous requests for materials made before the Library's March 13 closure have been extended. However, some holds may have been inadvertently canceled. To check the status of a previous hold, log into your library account or call the Library on or after July 13 at 415-393-0101 for staff assistance.
Returned library materials will be quarantined for several days and will not be checked in immediately upon return. Please keep this in mind when viewing your account details. You will not be charged overdue fees while materials are in quarantine.
If you are out of the area after the To Go Service begins, or otherwise unable to return overdue library materials, please call Celeste Steward or Jenny Huynh at 415-393-0101 or email [email protected] or [email protected]
At this time, the library cannot accept book donations.
Library Service Pickup Step-By-Step
Request Items
Find books, DVDs, audiobooks on CD, or music CDs in the Library's catalog and place your hold.

At this time, periodicals are not available for reserve or checkout.

Members are limited to 10 items for checkout. This can be any combination of media and print materials.

If you require assistance placing holds, call 415-393-0101 during phone service hours: Monday through Friday, 12-4.

Wait for Notification
If the requested materials have an on-shelf status in the catalog, you will receive an email or phone notification within five business days that your materials are ready for pickup.

If the items requested are checked out or on hold for another library user, your request will be filled once the items are returned, quarantined for several days and checked in. Please be patient as this step is for safety reasons.

Once you receive notification that your items are ready for pickup, call the Circulation Desk at 415-393-0101 to schedule an appointment for pickup. If you cannot reach a live person to schedule an appointment, please leave your name and phone number so we can return your call and confirm your appointment time.

If you receive multiple messages that your items are ready for pick up, you do not need to make separate reservations. We will hold all items that are ready for pick up during your scheduled appointment time.

If you are only returning materials in the Lobby book drop, no appointment is necessary. Simply return them to the Lobby book drop M-F between 12:00 and 4:00.

After Notification
Arrive at your appointed day and time slot.

If you need to reschedule, please give us a call at 415-393-0101.

You may return books and other materials during your appointment.

Fine resolution or member account consultation is not available during To Go Service.

Staff will be wearing face masks.

Face masks fully covering your nose and mouth are required.

To Go Service is for Library materials pickup and return only. Membership, chess, program, account issues/questions should be directed to the following numbers or email.

Who to Contact at MI
Chess Inquiries - 415-393-0110 or [email protected]
CinemaLit and Events Questions - 415-393-0114 or [email protected]
Fines or other library account issues - [email protected] or call 415-393-0101.
Library Events, book clubs, virtual programs,etc.- 415-393-0102 or [email protected]
Membership - 415-393-0105 or [email protected]
Reference and Reader's Advisory Service - 415-393-0102 or [email protected]