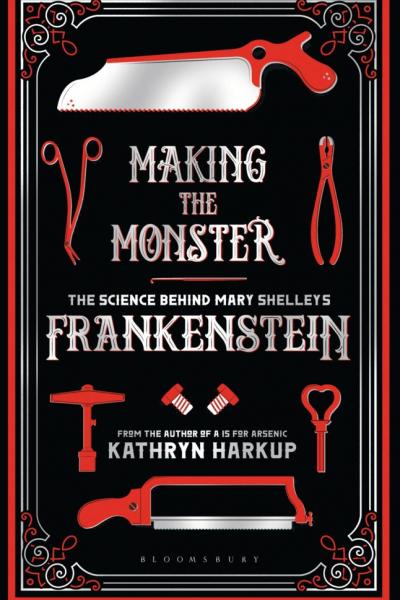 March 11, 2018 marked the two hundredth anniversary of the publication of Mary Shelley's ground breaking novel Frankenstein: Or, Modern Prometheus. Described as the first and arguably most influential science-fiction story ever written, Shelley's protagonist, Victor Frankenstein and his monster, has permeated "our everyday culture from cartoons to Halloween costumes. Even the name 'Frankenstein' has become a byword for evil scientists and dangerous experiments."
Written in a jaunty style that is hard to put down, Kathryn Harkup's Making the Monster: The Science Behind Mary Shelley's Frankenstein is a curious and successful amalgam of literary criticism, biography, and exploration of post-Enlightenment scientific history. It attempts to explain how the teenaged, home-schooled Mary Shelley could write a story that has terrified generations of readers but also tortured their minds with worrying questions such as what it means to be human, what are the origins of life, can or should humans play "God", what if the pursuit of knowledge goes wrong?
Harkup organizes her text into parts that represent the "life cycle" of Victor Frankenstein's monster (Conception, Creation, Birth) with chapters delineating the individual steps that resulted in his "existence". These chapters are peppered with fascinating tidbits of Mary Shelley's life and the people and modes of thinking that influenced her intellect; and biographical sketches of scientific pioneers such as Humphrey Davy, Allesandro Volta, Luigi Galvani, and Erasmus Darwin (grandfather of Charles) who gave their lives to the pursuit of scientific knowledge. These superstars of science created, discovered, and pursued the technologies such as organ and skin transplants, artificial life, and the act of bringing people back from the dead; that sparked Mary Shelley's creativity and enabled Victor Frankenstein to give life to his monster. What's remarkable is that two hundred years later we still striving to understand and master these technologies and are still not confident that their pursuit is for the greater good.
All in all I was monstrously pleased with Making the Monster and I look forward to more by Kathryn Harkup. We also have her first book, A is for Arsenic: The Poisons of Agatha Christie in our collection.