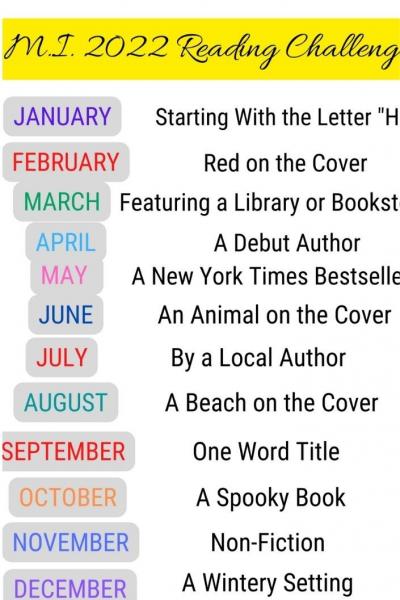 The new year is a great time to fit a literary challenge into your calendar. Here at Mechanics' Institute we begin reading this month with a book that has a title starting with "H" such as Thrity Umrigar's Honor, the January pick for Reese Witherspoon's Hello Sunshine book club. The library has tons more titles beginning with "H" too, including J.D. Vance's Hillbilly Elegy, The Handmaid's Tale by Margaret Atwood, or Joseph Conrad's The Heart of Darkness.
Next month shouldn't be terribly difficult to find a book with red on the cover. How about J.K. Rowling's The Casual Vacancy, The Catcher in the Rye by J.D. Salinger, or Suzanne Collins' Catching Fire? You'll find many more in the library as well.
For March, you'll need to find a book that features a library or a bookstore. You may like The Personal Librarian by Marie Benedict, The Paris Library by Janet Skeslien Charles, or a perennial staff favorite, 84, Charing Cross Road by Helene Hanff.
April is a good month for debut authors. Did you know that Delia Owens was 69 when she published her New York Times bestseller, Where the Crawdads Sing? You might also check out Brit Bennett's The Mothers to read before the film adaptation is finished. And who can resist Frederik Backman's A Man Called Ove, in production now as a film starring Tom Hanks?
May is a snap because all you need to do is read a New York Times Bestseller. Some member favorites include The Lincoln Highway by Amor Towles, Cloud Cuckoo Land by Anthony Doerr, and Wish You Were Here by Judi Picoult but the library has many more.
By June, you'll be smooth sailing into summer if you can find a book with an animal on the cover. There's Furiously Happy by Jenny Lawson, Awaeke Emezi's extraordinary debut novel, Freshwater, or M.I.'s World Literature book club pick, The Friend by Sigrid Nunez.
Local authors reign supreme in July and this is an area where the library excels. We have books by Rebecca Solnit, Jack Kerouac, Alice Walker, and Lawrence Ferlinghetti, to name a few. You can also access all of the library's works by members if you search for Members Mechanics Institute San Francisco Calif Works as a subject heading in our catalog.
In August we head to the shore with a book that has a "beachy" cover. Elin Hilderbrand's The Perfect Couple, Nevil Shute's On the Beach, or Queen Bee by Dorothea Benton Frank will satisfy the monthly challenge.
Slip into fall with September's one word title challenge. Try Circe by Madeline Miller, Educated by Tara Westover, or the humorous Less by Andrew Sean Greer.
By October, you'll be craving a spooky book and the library is bursting with scary stories. Keep the night light on as we dare you to read Silvia Morena-Garcia's Mexican Gothic, Stephen King's The Shining, or Helen Oyeyemi's White is for Witching.
November is a kinder and gentler month as all you need is a non-fiction title of your choice. By December you can wrap up your challenge by reading a book that has a wintery setting, such as Boundless: tracing land and dream by the New Northwest passage by Kathleen Winter, or The Winter People by Jennifer McMahon.
If you do anything in this new year, be sure and read along with us. Stop by to see our display on the second floor to help you get started. Our staff librarians are happy to recommend books when you visit or if you prefer to stay in, just email us at [email protected]. Happy reading!