The Mechanics' Institute was founded in 1854 and in our earliest days, when our library was still small, and our complete slate of services not yet established, finances were tough! California was 25 years away from granting public funding for libraries. To supplement the Institute's income, our trustees decided to put on a fair to celebrate what makes San Francisco special: its invention, ingenuity and to highlight locally made products.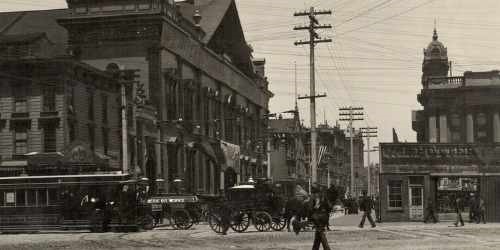 The first fair was held in 1857, and ultimately 30 fairs over the next 40 years were hosted to help support the Institute's goals.
The last fifteen fairs, between 1880 and 1897, as well as many civic and cultural events were held at a massive building known as the Mechanics' Pavilion. This stood at Larkin and Grove at the Civic Center near City Hall, right where the Bill Graham Civic Auditorium is now. This building was nearly 4 acres big and could hold well over 10,000 people at one time.
At the fair of 1890 there was a special exhibit - an automaton, or mechanical man called Ajeeb who was world famous for his chess playing abilities. Ajeeb was a life-sized fellow with a movable head, torso, and right arm – everything you need to play a good game of chess! He sat on a cushion mounted on a large box that purportedly contained his mechanical gears and works.
Built by an English cabinet-maker named Charles Hooper, Ajeeb was immediately put to work earning Mr. Hooper's bread and butter, playing chess. He was first seen at the London Polytechnical Institute in 1868 and was a smash hit. He then spent the next few decades touring big cities in Europe – visiting Berlin, Breslau, Dresden, Leipzig, Hanover, Magdeburg, Cologne, Elberfeld, Dusseldorf, Frankfurt, Wiesbaden, Brussels, and Paris before crossing the Atlantic and taking the United States by storm.
Ajeeb appeared to be animated, wound up in fact by the turning of a giant key that was in his back. Of course he was not really playing chess himself – there was space to hide a person inside the box upon which he sat. Charles Hooper was the first person to play chess hiding inside Ajeeb until about 1889. Then he hired other chess and checker masters - the smaller they were, the better! Some of the players were even rumored to be missing their legs in order to more easily fit inside Ajeeb's cabinet. Some of these people included chess superstars such as Charles F. Moehle, Albert Beauregard Hodges, Constant Ferdinand Burille, Charles Francis Barker, Harry Nelson Pillsbury, Doc Schaefer, Peter J. Hill, and Jesse Hanson.
In 1890 Ajeeb found his way to San Francisco. His owner at the time, John Mann, paid $955 for a license to exhibit Ajeeb at the fair of that year which was held between September 18 and October 25, 1890. In May, before the fair, presumably to drum up interest in Ajeeb's appearance, the San Francisco Call featured an article that explained how Ajeeb and other popular automatons worked. Despite the spilling of this secret – that Ajeeb did not actually have a mind of his own - he still proved to be a popular exhibit at the Mechanics' Institute's 1890 fair though the fair managers peevishly noted after the fact that his ticket fee was too high (an additional 25 cents, on top of the daily ticket charge of fifty cents) so attendance was not as robust as it could have been had the ticket been lower.
Ajeeb may not have been the most renowned of chess players to ever take part in activities for the Mechanics' Institute but he certainly was well traveled and, at least according to these pictures, quite well dressed.
Photos courtesy of Wikimedia Commons