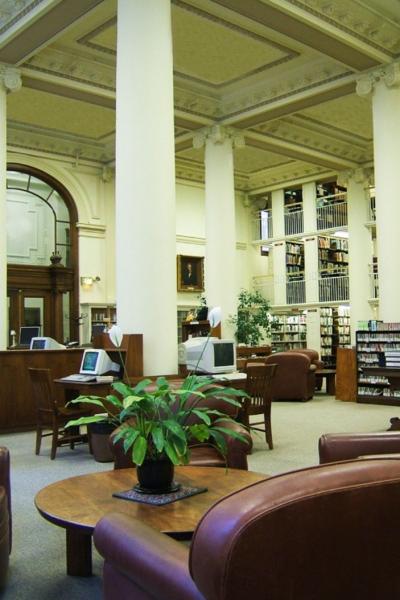 Mechanics' Institute Library is excited to welcome members back to 57 Post Street for browsing, materials pick up, checkouts, computer use, and reading. We look forward to providing you with an additional means of safe access to our collections and services.
Beginning April 5, members may schedule appointments for library use on either the 2nd or 3rd floors from 2-4 pm on Mondays, Wednesdays, and Fridays by calling 415-393-0101 between the hours of 8:30 am and 4:30 pm, Monday-Friday.
"To Go" contactless service by appointment will continue from 12-2 pm on Mondays, Wednesdays, and Fridays on the second floor.
Appointments for in-person library use may be scheduled up to one week in advance and reservations are made one week out. Members are limited to one appointment per week. Each individual needs an appointment, and members may not make substitutions. Members are limited to one hour on a public computer during their visit. Please arrive a few minutes before your appointment as we are using a check in procedure in compliance with the City of San Francisco mandate.
Be sure to dress warmly as windows are open in compliance with health mandates.
Services Currently Available:
Browsing for materials to check out

Computer use, by appointment only

Limited seating for reading or using one's own electronic devices

In-person reference
Services Currently Unavailable:
4th Floor Meeting Room is closed

Classrooms

Daily Newspapers

Drinking fountains/water dispensers
Please be aware that the library may look and feel a bit different than it did before the COVID-19 pandemic. The 2nd and 3rd floor restrooms are open but limited to one person at a time. Seating and services have been modified with member and staff safety in mind. For more information on visiting the library during the COVID-19 pandemic, click here.