This program is virtual, on Zoom
Cosponsored by the California Institute for Community, Arts, and Nature and San Francisco Historical Society
This discussion about California's troubling history will include topics like the 1850 Indian Slavery Act and its outcomes, how the legislature perpetuated these laws, even after the first California constitution prohibited slavery, state sponsored land theft and how displacement and acquisition continued. It will also cover how this promoted other forms of slavery in the US, and the impact it has had on Native American communities today. How to right the wrongs from the past will be addressed, with questions of recognition and reparations.
Abby Abinanti, a Yurok Chief Judge, is an enrolled Yurok Tribal member, she holds a Doctor of Jurisprudence from the University of New Mexico School of Law, and was the first California tribal woman to be admitted to the State Bar of California. She was a State Judicial Officer (Commissioner) for the San Francisco Superior Court for over 17 years assigned to the Unified Family Court (Family/Dependency/Delinquency). She retired from the Superior Court in September 2011 and on July 31, 2014 was reappointed as a part-time Commissioner for San Francisco assigned to Dependency, and Duty Judge for that Court where she served until 2015. She has been a Yurok Tribal Court Judge since 1997 and was appointed Chief Tribal Court Judge in 2007, a position she held in conjunction with her Superior Court assignment until 2015.
Professor George E. Bisharat is the Honorable Raymond L. Sullivan Professor of Law at UC Hastings College of the Law. He was a trial lawyer for the Office of the Public Defender in San Francisco before joining the Hastings faculty in 1991. Professor Bisharat studied law, anthropology, and Middle East studies at Harvard, and wrote a book about Palestinian lawyers working under Israeli military occupation in the West Bank. He writes frequently on law and politics in the Middle East, both for academic audiences and for major media sources in the U.S. and abroad. He is a singer, songwriter, and blues harmonica player specializing in the chromatic harmonica, and as "Big Harp George" has recorded five albums that earned award nominations and critical acclaim.
John Briscoe has tried and argued cases of aboriginal land rights, the law of war and the law of the sea in international courts, the United States Supreme Court, and other tribunals, for fifty years from his offices in San Francisco. He is a Distinguished Fellow at the University of California Berkeley School of Law, has received recognition for his poetry and history, and is co-owner of Sam's Grill in San Francisco, the fifth-oldest restaurant in the country.
Programming in "Civil Rights, Artistic Diversity, Historical Reckoning: Exploring the Film, Literature, and Lives of Marginalized Communities" has been made possible in part by a major grant from the National Endowment for the Humanities: Democracy demands wisdom.
Any views, findings, conclusions, or recommendations expressed in this program do not necessarily represent those of the National Endowment for the Humanities.
Mechanics' Institute Members & Cosponsors Free
Public sliding scale, $5 to $10
Meet the Author(s)
Admission:
Members of Mechanics' Institute and cosponsors Free
Public Sliding Scale $5 to $10
Register now ›
Questions?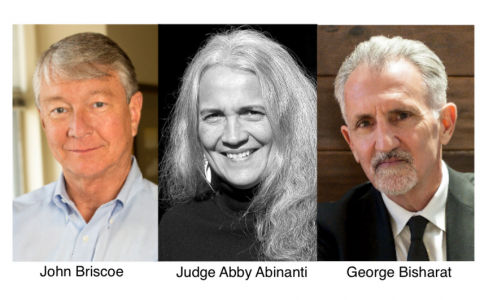 Register now by using the form below or calling 415-393-0116.
Future Meet the Author(s)