This meeting will take place over Zoom. To receive an invitation to the meeting, please sign up using the Eventbrite link below. You will receive an invitation and a link to Zoom the day before the event.
If you have not received a Zoom link by the day before the event, please contact us at [email protected]
Cosponsored by Heyday Books
"It is a pleasure to think that readers of this anthology will be replicating the experience of those summer mornings and evenings in the mountains. . . . Browsing an anthology, [readers] are pollen-gathering, as the poets were doing every day as they walked in the high mountain air, wondering or watching where their next poem was going to come from."
—Robert Hass, from the foreword
The Community of Writers celebrates fifty years of poetry with this collection of more than one hundred and forty works composed at its annual summer poetry workshop in Olympic Valley, California. Edited by workshop codirector Lisa Alvarez and introduced by longtime poetry director Robert Hass, the book is divided into three sections: place, process, and process in the place.
Why to These Rocks speaks to the special community nurtured in the valley's inimitable setting, one that has inspired poets worldwide—many of whom developed significant bodies of award-winning work in its creative and generative atmosphere.
Bios:
Heather Altfeld is a poet and essayist. Her two books of poetry are Post-Mortem (April 2021) and The Disappearing Theatre (2016). Her work is featured or forthcoming in the 2019 Best American Essays, Orion Magazine, Aeon Magazine, Conjunctions, Narrative Magazine, and others. She was the 2017 recipient of the Robert H. Winner Award with the Poetry Society of America and the 2015 recipient of the Pablo Neruda Prize for Poetry. She teaches in the Department of Comparative Religion and Humanities and the Honors Program at CSU Chico. She has attended the Poetry Workshop several times over since 2008.
Mónica de la Torre is a poet and translator, she has published six collections of poetry as well as edited, translated, and collaborated on other books. She has served as poetry editor of The Brooklyn Rail and senior editor of BOMB Magazine, and teaches poetry at Brooklyn College. Her most recent book is Repetition Nineteen. She served on the teaching staff at the Community of Writers in 2018. (Photo by Bruce Pearson)
Shangyang Fang comes from Chengdu, China. A Wallace Stegner Fellow at Stanford University, and recipient of the Joy Harjo Poetry Award and Gregory O'Donoghue International Poetry Prize, he is author of the poetry collection Burying the Mountain (Copper Canyon Press, 2021). He attended the Poetry Workshop in 2019.
Ken Haas has had his poems published in more than fifty journals and a variety of anthologies. His first full book, Borrowed Light, won the 2020 Red Mountain Press Discovery Award. Nominated for a Pushcart Prize, he won the Betsy Colquitt Poetry Award, and serves on the Board of Directors of the Community of Writers. He lives in San Francisco where he works in healthcare and sponsors a weekly poetry writing program at UCSF Children's Hospital. He has attended the Poetry Workshop several times over since 2008.
Troy Jollimore's books of poetry are Syllabus of Errors, At Lake Scugog, and Tom Thomson in Purgatory, which won the National Book Critics Circle Award for poetry in 2006. His poems have appeared in the New Yorker, Best American Poetry 2020, McSweeney's, and elsewhere. His fourth collection of poetry, Earthly Delights, will be published in September, 2021. He attended the Poetry Workshop in 2012 and 2015.
Margaret Rhee is the author of Love, Robot named a 2017 Best Book of Poetry by Entropy Magazine, awarded an Elgin Award by the Science Fiction Poetry Association, and the 2019 Book Prize in Poetry by the Asian American Studies Association. She is assistant professor in media studies at SUNY Buffalo. She attended the Poetry Workshop in 2018.
buy books online at:
Mechanics' Institute members Free
Public sliding scale, $5 or $10
Register with Eventbrite below.
If the green TICKET button is not immediately visible, scroll down on the right in the Eventbrite window until it appears
Meet the Author(s)
Admission:
Members of Mechanics' Institute and cosponsor Free
Public Sliding Scale $5 to $10
Register now ›
Questions?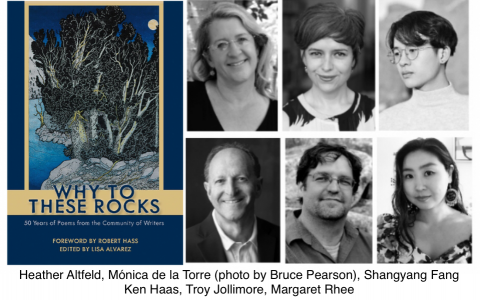 Register now by using the form below or calling 415-393-0101.
Future Meet the Author(s)