This meeting will take place over Zoom. To receive an invitation to the meeting, please sign up using the Eventbrite link below. You will receive an invitation and a link to Zoom two days before the event.
If you have not received a Zoom link by the day before the event, please contact us at [email protected]
Multi-talented poet/playwright Dan Harder and well-known writer/illustrator Paul Madonna present their intriguing novels combining lost and discovered love, hidden identities and disappearances. Come join an evening of delicious mystery and romance!
Rancho de Amor
By Dan Harder
To save a New York publishing house facing imminent closure, editor Catherine Doyle travels across the country to the small town of Sisquoc, California, in search of the famous Loretta de Bonnair, the author of the bestselling romance novel that has the nation in a fervor. As Catherine wanders the town interviewing the locals, she realizes no one has ever seen the mysterious author. The only clue to Ms. de Bonnair is a certain handsome cowboy with a penchant for bar fights. If Catherine wants to save her job and the publishing house, she'll have to get closer to this stranger, even if it means trusting him.
Dan Harder has published a novel, two children's books, three books of poetry, two books of essays, dozens of newspaper features (LA Times, SF Chronicle, etc.) and radio stories (NPR, KCBS, etc.), full-length plays, and a Romantic opera. His play, A Killer Story, was nominated for a Pulitzer and will be hitting the online stage soon. He also has a commission to write a new opera libretto about actor/singer/activist Paul Robeson. This month, a new play of his goes into production and a new book of poetry, Askew, will be published. To pay the bills, he's been a cowboy, taught sailing, skiing, English and philosophy, been a waiter, a translator, a truck driver, owned a restaurant... and loves to hunt wild mushrooms just for fun.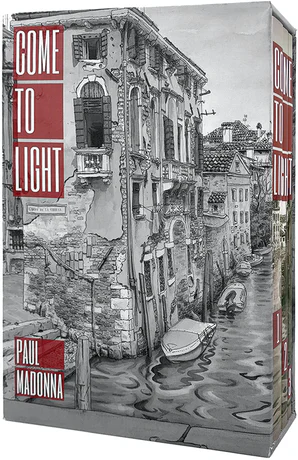 Come to Light
by Paul Madonna
From award-winning artist and author Paul Madonna, Come to Light is a boxed set of a three-part, beautifully illustrated mystery novel that weaves a gripping tale of a lost love, a vengeful sister, and the imminent death of a man—unless Emit Hopper can discover the truth in time. Replete with almost one hundred drawings that illuminate this fun and intriguing page-turner, Come to Light is the thrilling follow-up to Emit Hopper's story, which debuted in Close Enough for the Angels.
Paul Madonna is an award-winning artist and author who combines drawing and fiction in a range of forms, from murals to novels. He has written several books, including the illustrated novel Close Enough for the Angels, and has exhibited his work in national and international galleries and museums, from California's Oakland Museum to France's William Blake Association. Paul currently lives in San Francisco, CA.
buy books online at:
Mechanics' Institute members Free
Public sliding scale, Free or $10
Register with Eventbrite below.
If the green TICKET button is not immediately visible, scroll down on the right in the Eventbrite window until it appears
Meet the Author(s)
Admission:
Mechanics' Institute Members Free
Public Sliding Scale Free to $10
Register now ›
Questions?
Register now by using the form below or calling 415-393-0101.
Future Meet the Author(s)
Dec 2 - 5:30pm
The Money Plot: A History of Currency's Power to Enchant, Control, and Manipulate, on Zoom
author Frederick Kaufman in conversation with banker and playwright John Bunzel