This event will be held onsite.
German novelist Thomas Brussig, The Short End of the Sonnenallee, appears with translator, award-winning writer Jonathan Franzen.
Cosponored by the Goethe-Institut San Francisco and the Consulate General of the Federal Republic of Germany, San Francisco
Reception at 6pm and program at 6:30pm
Thomas Brussig's classic German novel, The Short End of the Sonnenallee, now appearing for the first time in English, is a moving and miraculously comic story of life in East Berlin before the fall of the Wall
Young Micha Kuppisch lives on the nubbin of a street, the Sonnenallee, whose long end extends beyond the Berlin Wall outside his apartment building. Like his friends and family, who have their own quixotic dreams—to secure an original English pressing of Exile on Main St., to travel to Mongolia, to escape from East Germany by buying up cheap farmland and seceding from the country—Micha is desperate for one thing. It's not what his mother wants for him, which is to be an exemplary young Socialist and study in Moscow. What Micha wants is a love letter that may or may not have been meant for him, and may or may not have been written by the most beautiful girl on the Sonnenallee. Stolen by a gust of wind before he could open it, the letter now lies on the fortified "death strip" at the base of the Wall, as tantalizingly close as the freedoms of the West and seemingly no more attainable.
The Short End of the Sonnenallee, finally available to an American audience in a pitch-perfect translation by Jonathan Franzen and Jenny Watson, confounds the stereotypes of life in totalitarian East Germany. Brussig's novel is a funny, charming tale of adolescents being adolescents, a portrait of a surprisingly warm community enduring in the shadow of the Iron Curtain. As Franzen writes in his foreword, the book is "a reminder that, even when the public realm becomes a nightmare, people can still privately manage to preserve their humanity, and be silly, and forgive."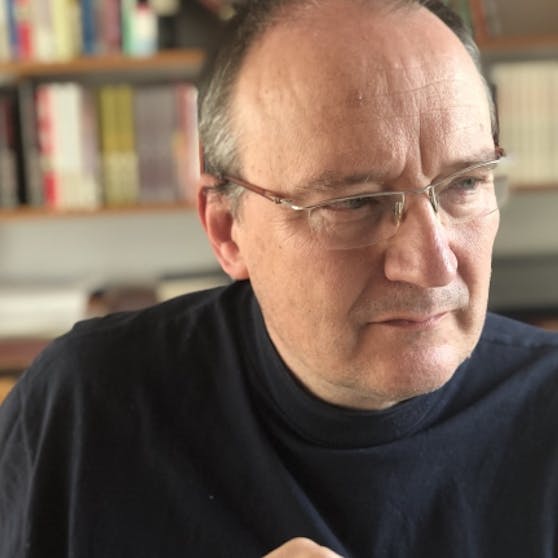 Thomas Brussig is the author of seven novels, including Wie es leuchtet and Helden wie wir (Heroes Like Us, FSG, 1997). As a screenwriter, he worked with Edgar Reitz on his Heimat epic. Born in East Berlin, Brussig now divides his time between Berlin and Mecklenburg.
Jonathan Franzen's gift for wedding depth and vividness of character with breadth of social vision has never been more dazzlingly evident than in Crossroads.
It's December 23, 1971, and heavy weather is forecast for Chicago. Russ Hildebrandt, the associate pastor of a liberal suburban church, is on the brink of breaking free of a marriage he finds joyless—unless his wife, Marion, who has her own secret life, beats him to it. Their eldest child, Clem, is coming home from college on fire with moral absolutism, having taken an action that will shatter his father. Clem's sister, Becky, long the social queen of her high-school class, has sharply veered into the counterculture, while their brilliant younger brother Perry, who's been selling drugs to seventh graders, has resolved to be a better person. Each of the Hildebrandts seeks a freedom that each of the others threatens to complicate.
Jonathan Franzen's novels are celebrated for their unforgettably vivid characters and for their keen-eyed take on contemporary America. Now, in Crossroads, Franzen ventures back into the past and explores the history of two generations. With characteristic humor and complexity, and with even greater warmth, he conjures a world that resonates powerfully with our own.
A tour de force of interwoven perspectives and sustained suspense, its action largely unfolding on a single winter day, Crossroads is the story of a Midwestern family at a pivotal moment of moral crisis. Jonathan Franzen's gift for melding the small picture and the big picture has never been more dazzlingly evident.
Jonathan Franzen is the author of six novels, including The Corrections, Freedom, and Crossroads, and five works of nonfiction, most recently Farther Away and The End of the End of the Earth, all published by Farrar, Straus and Giroux. He lives in Santa Cruz, California. (Franzen photo by Janet Fine)
Mechanics Institute members & Cosponsors $10
Cosponsors use Promo Code BRUSSIG
Public $15


Cancellation policy:
For this event, we reserve the right to cancel at any time and issue a full refund. If you are unable to attend the event, please email [email protected] by Sunday, April 16, 2023, to receive a full refund less any non-refundable ticketing fees which may be applicable. All fees must be paid at the time of registration. After Sunday, April 16, 2023 no refunds will be issued.
Meet the Author(s)
Admission:
Members of Mechanics' Institute & cosponsors $10
Public $15
Register now ›
Questions?
Register now by using the form below or calling 415-393-0116.
Future Meet the Author(s)