Friday, February 3, 2023 - 6:00pm

Friday, February 3 - Look Back in Anger ,1959, 98 minutes, directed by Tony Richardson, starring Richard Burton, Claire Bloom, and Mary Ure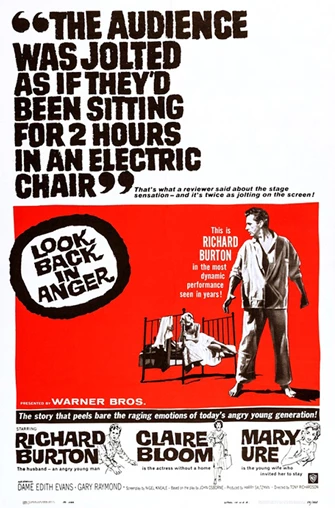 Richard Burton stars as Jimmy, a disaffected shop vendor in a Midlands town. Frustration at his dead end job and lack of opportunities lead him to mistreat his wife Alison (Mary Ure), who comes from the upper-classes and has not endured the deprivations known to Jimmy. Complications arise when Alison's friend Helena (Claire Bloom) comes to visit, with smoldering emotions eventually igniting. Tony Richardson, who went on to direct the wildly successful 1963 British comedy Tom Jones, made his film debut here, having directed the original hit stage production of Look Back in Anger.
(Image used with permission of MIramax Films.)
CinemaLit February 2023: The British New Wave
As the Mostly British Film Festival plays the Vogue Theatre this month in San Francisco, CinemaLit is screening four great films of the British New Wave: Look Back in Anger (1959), The Entertainer (1960), Saturday Night and Sunday Morning (1960), and The Loneliness of the Long Distance Runner (1962). From 1959 to 1963, British cinema came forth with a series of startlingly raw films portraying the struggles of the laboring classes in the Midlands and Northern England. Spare, diamond-hard, and deeply felt, these "kitchen sink dramas" were made on small budgets and directed by mavericks just beginning their careers, including Tony Richardson, Karel Reisz, John Schlesinger, and Bryan Forbes. The films hold up brilliantly sixty years later; their harsh judgments of wealth and social class haven't aged a day. Revel, too, in the powerhouse acting of four actors at the peak of their powers: Richard Burton (Look Back in Anger), Laurence Olivier (The Entertainer), Albert Finney (Saturday Night and Sunday Morning), and Tom Courtenay (The Loneliness of the Long Distance Runner). Combined, they embody the dispossessed and embittered forgotten men of austere postwar England as envisioned by John Osborne, Alan Sillitoe, Shelagh Delaney, and other screenwriters, novelists, and playwrights of the era.
Matthew Kennedy, CinemaLit's curator, has written biographies of Marie Dressler, Joan Blondell, and Edmund Goulding. His book Roadshow! The Fall of Film Musicals in the 1960s, was the basis of a film series on Turner Classic Movies.
"I don't have a favorite film," Matthew says. "I find that my relationships to films, actors, genres, and directors change as I change over the years. Some don't hold up. Some look more profound, as though I've caught up with their artistry. I feel that way about Garbo, Cary Grant, director John Cassavetes, and others."
"Classic films have historical context, something only time can provide," Matt observes. "They become these great cultural artifacts, so revealing of tastes, attitudes, and assumptions."
Mechanics Institute Members Free
Public $10
Register with Eventbrite below.
CinemaLit Films
Questions?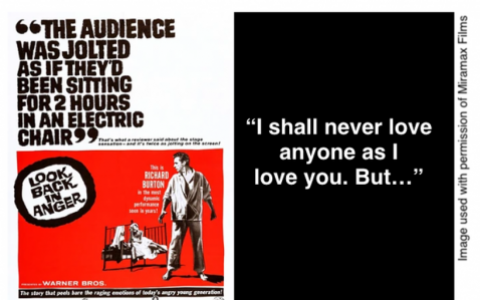 Register now by using the form below or calling 415-393-0116.
Feb 10 - 6:00pm
The Entertainer (1960) -- ONSITE at Mechanics' Institute
CinemaLit February 2023: – British New Wave
Feb 17 - 6:00pm
Saturday Night and Sunday Morning (1960) -- ONSITE at Mechanics' Institute
CinemaLit February 2023: – British New Wave