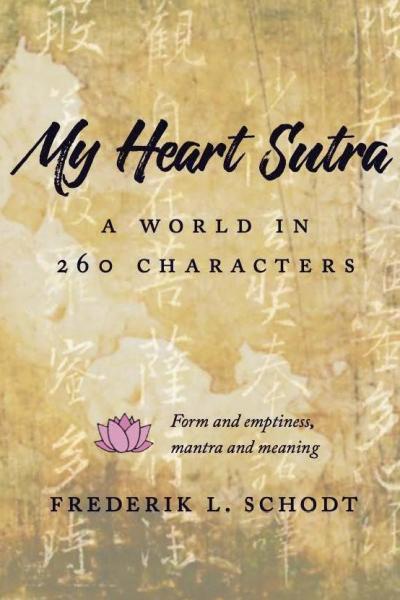 This event is produced in partnership with the San Francisco Writers Conference. It will take place via Zoom.
Please register via Eventbrite and the Zoom credentials will be sent to you a few days before the class starts.
Questions? Contact Taryn Edwards, [email protected]
Join author Frederik L. Schodt and publisher Peter Goodman for a discussion of the new book My Heart Sutra: A World in 260 Characters, Fred's exploration of one of the world's great spiritual documents and why it has intrigued, inspired, and nurtured him for decades. My Heart Sutra touches on everything from Chinese history and the origin of Buddhist teachings to modern-day commercialization and even the use of a robot Avalokitesvara in Kyoto for worship and devotion. More than a cultural history, the book is Fred's personal story of how he has used the mantra in times of crisis and allowed the practice of sutra writing and recitation to give his life calm and clarity, even if the Heart Sutra's famous lines "form is emptiness, emptiness is form" forever remain beyond mere intellectual understanding.
My Heart Sutra is one of over a half dozen books that Fred Schodt has published with Stone Bridge Press, whose publisher, Peter Goodman, first met Fred in Tokyo in the 1970s when they were both students at International Christian University. Stone Bridge has published several hundred titles since its establishment in Berkeley in 1989, most of them related to Japan.
Fred and Peter will discuss how My Heart Sutra came to be as well as the publishing process, from idea to manuscript to finished book. Fred is especially well known for his diligent research and meticulous fact-checking that make his books both erudite and entertaining. Stone Bridge Press is a good example of the spirited independent publishers that are a growing part of book publishing today. Peter will discuss the state of indie publishing as well as draw attention to the many new opportunities that exist for writers today to publish and promote their own works.
My Heart Sutra can be purhased directly from the publisher Stone Bridge Press, or from your local bookseller such as Alexander Book Company.
Frederik L. Schodt is an award-winning writer and translator who lives in the San Francisco Bay Area. Publishing through Berkeley's Stone Bridge Press, he focuses on currents of thought between Asia (especially Japan) and North America, writing about history, technology, international relations, and popular culture. His latest book is My Heart Sutra: A World in 260 Characters (Berkeley: Stone Bridge Press, 2020). In 2009 the Emperor of Japan awarded him the Order of the Rising Sun, Gold Rays with Rosette, for his help in introducing and promoting Japanese contemporary popular culture.
Stone Bridge Press president and publisher Peter Goodman is a graduate of Cornell University and lived in Tokyo, Japan for ten years, where he worked as an editor for English-language publishers Charles E. Tuttle and Kodansha International before returning to the United States in 1985. He has served as in-house editor, ghost writer, translator, and project manager on nearly 400 Japan- and Asia-related titles. Peter established Stone Bridge Press in 1989. Distributed by Consortium Book Sales, Stone Bridge exemplifies the small and independent press with access to a national market. Peter concluded his term as Board Chair of IBPA, the Independent Book Publishers Association in 2017, and was most recently host of the IBPA-sponsored podcast "Inside Independent Publishing".
Activities
Location:
Offsite: See description for location
Questions?
Register now by using the form below or calling .