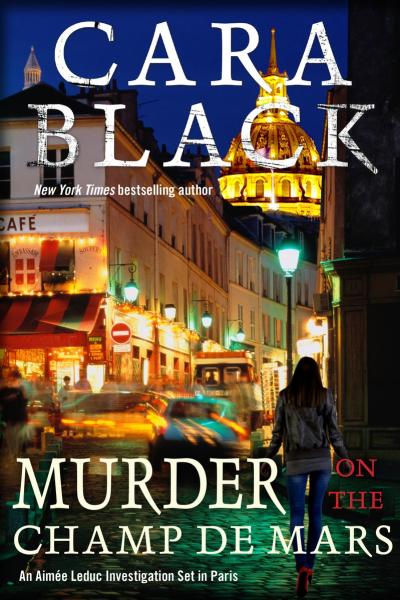 Murder on the Champ De Mars (Soho Press) by Cara Black
Set in the seventh arrondissment, the quartier of the Parisian elite, Murder on the Champ de Mars takes readers from the highest seats of power in the Ministries and embassies through the city's private gardens and the homes of France's oldest aristocratic families. Aimée discovers more connections than she thought possible between the clandestine "Gypsy" world and the moneyed ancien régime, ultimately leading her to the truth behind her father's death . . .and it's a truth that is going to turn her world upside down.
Cara Black lives in Noe Valley with her bookseller husband, Jun, owner of Foto-Graphix Books, and her son, Tate. She's a San Francisco Library Laureate, Macavity and three-time Anthony Award nominee for her series, Aimée Leduc Investigations, set in Paris.
"Transcendently, seductively, irresistibly French." —Alan Furst
"Wry, complex, sophisticated, intensely Parisian ... One of the very best heroines in crime fiction today." —Lee Child
"So authentic you can practically smell the fresh baguettes and coffee." —Val McDermid
"I always wondered why I used to quicken my step in Montmartre. After reading Cara Black's wonderful book, now I know. As atmospheric as anything by John le Carré." —Philip Kerr
---
Blackmail, My Love: A Murder Mystery (Cleis Press) by Katie Gilmartin
First-time novelist and illustrator Katie Gilmartin breaks into Noir fiction with Blackmail, My Love: A Murder Mystery. Set in Beat era San Francisco in legendary locations such the Black Cat Cafe, the Fillmore, North Beach, and the Tenderloin, Gilmartin reveals San Francisco's mid-century queer underground as she leads us into a world of corruption and murder. Protagonist Josie O'Conner travels to San Francisco to locate her gay brother, a private detective investigating a blackmail ring within the local bars and taverns. Jimmy's friends claim that just before his disappearance, he became an informant to the cops. Josie adopts Jimmy's trousers and wingtips as well as his investigation, battling to clear his name and exact justice!
Katie Gilmartin received a Ph.D. in cultural studies from Yale, with an emphasis in queer history. After teaching the history of sexuality and queer studies for a decade at the University of California, Santa Cruz, the University of California, Berkeley, and The New College, she became a printmaker. Her prior publications are academic essays based on interviews she conducted with lesbians about their lives in the 1940s and 1950s. This is her first work of fiction. Gilmartin lives in San Francisco.
"Blackmail, My Love will entertain fans of the noir genre, but its social themes and messages about love and redemption will also appeal to a wider audience." —ForeWord Reviews
Meet the Author(s)
Questions?
Register now by using the form below or calling 415-393-0101.
Future Meet the Author(s)