This series opens with a view of the cutting edge developments in technology, science, industry and craft right here in San Francisco. Hear about the companies, resources and products that contribute to the Bay Area's spirit of innovation. Panelists include David Thomasson, Research Design Engineer, Autodesk; Lisa Ellsworth, Creative Manager of Workshop Residence; and Philip Ross, CEO, MycoWorks.
Philip Ross is an artist, inventor, and scholar whose internationally awarded research is focused on biomaterial design and life support technologies. He is a co-founder and CTO of MycoWorks, a San Francisco start-up that turns mycelium (the threadlike, vegetative part of mushrooms) into leather and other materials using carbon-neutral, chemical-free, organic, biodegradable, and fully sustainable technology. As an artist, Philip has exhibited work at the Venice Biennale of Architecture, New York's MoMA, and the Museum of Jurassic Technology among others; as a bioengineering scholar at Stanford University, he's working to develop an internet of biological things.
David Thomasson is a Principal Research Engineer in the Applied Research and Innovation team at Autodesk. He is leading the company's robotics initiative, focusing on the future of designing and making in a robotically-enabled world. He is a maker and tinkerer and believes that smart machines not only hold great potential to help people solve the big problems, but also to promote community, creativity, amusement, and sense of wonder. An Electrical Engineer by training, he has also spent many years working with digital media in the performing arts industry.
Todd Oppenheimer (Moderator) has more than three decades of experience in journalism, and is a long-time member of The Writers Grotto, based in San Francisco. He has written for The New Yorker, The Atlantic Monthly, and The New York Times among other publications, and has won a variety of reporting awards over the years, including a National Magazine Award and a first prize from Investigative Reporters & Editors (IRE). He is the author of The Flickering Mind: Saving Education from the False Promise of Technology (Random House), which was a finalist for IRE's investigative book award. Oppenheimer has been writing about unusual artisans since 2008, when he profiled Bob Kramer, a master kitchen bladesmith, for The New Yorker.
Lisa Ellsworth is the Creative Manager of Workshop Residence, where she landed after having worked for more than fifteen years as a curator and designer of exhibitions, environments, and programs in museums. She has presented work by emerging and established artists and designers from throughout the San Francisco Bay Area and beyond. Lisa received a BA in Visual Arts from the University of California, San Diego, and has worked at arts organizations in San Francisco, Palo Alto, San Jose, San Diego, and New York. She is a willing coconspirator to a cadre of good people working in creative capacities and continues to work independently as a curator.
Note: Janet Lees will not be appearing at this event.
Activities
Admission:
Members Free
Craftsmanship Quarterly Friends & Co-sponsors Free
Public $15
Register now ›
Questions?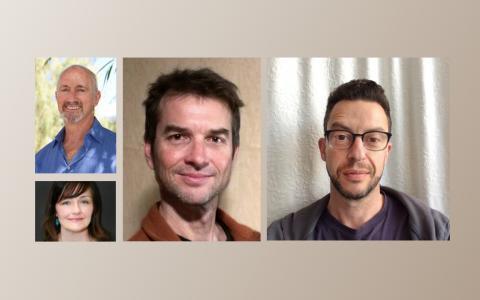 Register now by using the form below or calling 415-393-0101.