Mechanics' Institute is proud to welcome San Francisco's seventh Poet Laureate, Kim Shuck, the first person of Cherokee descent to hold this honorable position. She succeeds Alejandro Murguia and Jack Hirschman. As a fifth generation San Francisco resident of Cherokee and Polish heritage, she is devoted to giving voice to the city's diverse voices through the power of language and culture. This can be experienced in her full-length collections Rabbit Stories and Smuggling Cherokee. Kim will be joined by poet Tongo Eisen-Martin whose passionate work confronts issues of injustice and incarceration, power politics and struggles for survival.
Kim Shuck is the current Poet Laureate of San Francisco. She has "poeted" in various ways in the SF Bay Area for four decades and change, has two full length collections of poetry, one chapbook and one collection of prose poems to her name. Her recent works include Sidewalk NDN (Foothills Publishing, 2014) and Clouds Running In (Taurean Press, 2014), and she is working on a new collection to be published by City Lights Publishers in 2019. Kim serves on the board of directors for the San Francisco American Indian Cultural Center in planning, is involved with the Cherokee Society of the Greater Bay Area and is a citizen of the Cherokee Nation of Oklahoma. In addition, she is a former Indian Studies instructor and a visual artist who works with traditional textiles.
Originally from San Francisco, Tongo Eisen-Martin is a poet, movement worker and educator. His book titled, Someone's Dead Already was nominated for a California Book Award. His latest book of poems Heaven Is All Goodbyes was published in the City Lights Pocket Poets Series. As a human rights activist and educator, he has organized against mass incarceration and extra-judicial killing of Black people throughout the United States. Subscribing to the Freirian model of education, he designed curricula for oppressed people's education projects from San Francisco to South Africa. He has taught at Columbia University and in detention centers across the country.
Meet the Author(s)
Admission:
Members of Mechanics' Institute Free
Friends of Poets Free
Public $15
Register now ›
Questions?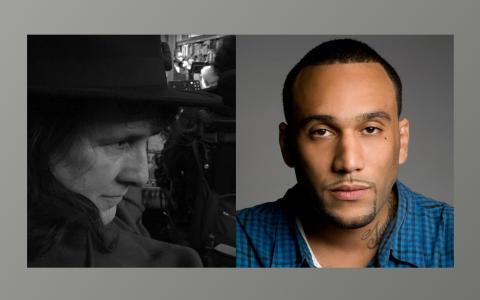 Register now by using the form below or calling 415-393-0101.
Future Meet the Author(s)