Suffrage 100: A Centennial Celebration on Zoom
This meeting will take place over Zoom. To receive an invitation to the meeting, please sign up using the Eventbrite link below. You will receive an invitation and a link to Zoom two days before the event.
Co-sponsored by League of W
omen Voters SF
In commemoration of Women's History Month and Suffrage 100 our series will offer informative and inspiring presentations about the Suffrage Movement from various perspectives that led to the ratification of the 19th Amendment on August 26, 1920.
This program will feature journalist Elaine Elinson, author of the award-winning book, Wherever There's a Fight: How Runaway Slaves, Suffragists, Immigrants, Strikers, and Poets Shaped Civil Liberties in California. Elaine has also written extensively about San Francisco suffragist Selina Solomons and how the vote was won in the Golden State. California was the 6th state to pass full Suffrage—or full voting rights for women in 1911--almost a decade before the 19th Amendment was passed. Elaine will be in conversation on Zoom with Professor Jennifer Helton whose scholarship covers the broad history of the Suffrage Movement, particularly of the Western states. One of her essays appears in the book, Equality at the Ballot Box: Votes for Women on the Northern Great Plains. This history starting from Wyoming Territory taking the lead in 1869, describes the spirited battle to win the vote.
Elaine Elinson was the communications director of the ACLU of Northern California and editor of the ACLU News for more than two decades. She is a coauthor of Development Debacle: The World Bank in the Philippines, which was banned by the Marcos regime. Her articles have been published in the Los Angeles Daily Journal, the San Francisco Chronicle, The Nation, Poets and Writers, and numerous other periodicals. She is married to journalist Rene Ciria-Cruz and they have one son.
Professor Jennifer Helton is a historian who teaches in the California Community College system. She writes on the history of women's suffrage and women's rights, particularly in the nineteenth century American West.
"The right of citizens of the United States to vote shall not be denied or abridged by the United States or by any State on account of sex.
Congress shall have power to enforce this article by appropriate legislation."
-19th Amendment, United States Constitution
Visit the League of Women Voters SF at https://lwvsf.org/home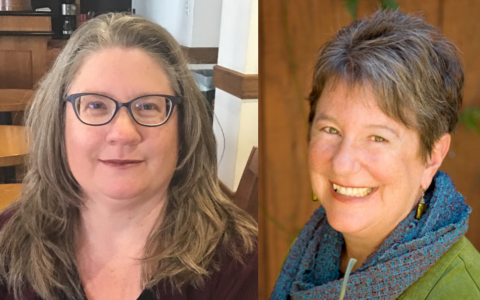 Register now by using the form below or calling .