PLEASE REGISTER IN ADVANCE.
This meeting will take place over Zoom. To receive an invitation to the meeting, please sign up using the Eventbrite link below. You will receive an invitation and a link to Zoom two days before the event.
If, after signing up, you do not receive a link to the Zoom meeting by the morning of the Event, please contact us at [email protected].
This day commemorates the 72-year struggle of American Suffragists and their supporters around the world: from the first convention in Seneca Falls, New York in 1848, to the women who marched, protested and were incarcerated, and finally to the ratification of the 19th Amendment and women's right to vote in the United States in 1920.
This culminating program, WOMEN IN POLITICS TODAY: A PROGRESS REPORT celebrates our current leaders and representatives and features Congresswoman Jackie Speier, California Lt. Governor Eleni Kounalakis, Alameda County Supervisor Wilma Chan, Aimee Allison, Founder and President of She the People, Marisa Lagos, KQED Political Correspondent, Alison Goh, President of the League of Women Voters of San Francisco, plus journalist Elaine Elinson and Suffrage historian Jennifer Helton. Distinguished guests offer perspectives from their engagement in government and civic work, talk about their inspirations and aspirations, and how women can lead our country and preserve democratic values--from community organizing to running for congress.
The series on the history of the Suffrage Movement and its impact today is cosponsored by the Mechanics' Institute and the League of Women Voters, San Francisco. This program is a non-partisan event.
Bios
Aimee Allison is the founder and president of She the People, a national network of women of color. She hosted the nation's first presidential forum for women of color in 2019 and leads national efforts to build inclusive, multiracial coalitions led by women of color. She has appeared in hundreds of media outlets including Politico, New York Times and PBS. Aimee Allison holds a B.A. and M.A. from Stanford University.
Wilma Chan is the Alameda County Supervisor who represents District 3, which includes the cities of Alameda, San Leandro, parts of Oakland including Chinatown, Jack London, Fruitvale and San Antonio neighborhoods, and the unincorporated communities of San Lorenzo and Hayward Acres. She is currently Chair of the Health Committee and ALL IN, a multi-stakeholder initiative to end poverty in Alameda County. From 2000-2006, Supervisor Chan served in the California State Assembly where she became the first woman and first Asian American to be Majority Leader. Prior to that, she served four years on the Oakland Board of Education (1990-94) and then became the first Asian American elected to the Alameda County Board of Supervisors (1994-2000).
Elaine Elinson was the communications director of the ACLU of Northern California and editor of the ACLU News for more than two decades. She is a coauthor of Wherever There's a Fight, 10th Anniversary Edition: How Runaway Slaves, Suffragists, Immigrants, Strikers, and Poets Shaped Civil Liberties in California and Development Debacle: The World Bank in the Philippines, which was banned by the Marcos regime. Her articles have been published in the Los Angeles Daily Journal, the San Francisco Chronicle, The Nation, Poets and Writers, and numerous other periodicals.
Alison Goh is the current President of the League of Women Voters of San Francisco. Prior to her role as President, she served as VP of Voter Services and Pros & Cons Guide Chair. Alison is passionate about voter education, voting rights and women's representation in elected offices and has had a career dedicated to political campaigns and social justice issues. She graduated from American University in Washington D.C. with a B.A. in Political Science and International Relations.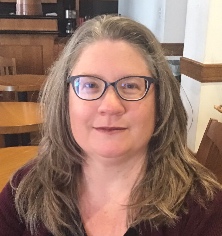 Professor Jennifer Helton is a historian who teaches in the California Community College system. She writes on the history of women's suffrage and women's rights, particularly in the nineteenth century American West. One of her essays appears in the book, Equality at the Ballot Box: Votes for Women on the Northern Great Plains.
Eleni Kounalakis was sworn in as the 50th Lieutenant Governor of California by Governor Gavin Newsom on January 7th, 2019. She is the first woman elected Lt. Governor of California. From 2010 to 2013, Kounalakis served as President Barack Obama's Ambassador to the Republic of Hungary. Her highly acclaimed memoir, Madam Ambassador, Three Years of Diplomacy, Dinner Parties and Democracy in Budapest chronicles the onset of Hungary's democratic backsliding. Governor Jerry Brown appointed Kounalakis to chair the California Advisory Council for International Trade and Investment in 2014. She is currently a director of the Association of American Ambassadors and a National Democratic Institute "Ambassadors Circle" advisor.
Marisa Lagos is a correspondent for KQED's California Politics and Government Desk and co-hosts a weekly show and podcast, Political Breakdown with Scott Shafer. At KQED, Lagos conducts reporting, analysis and investigations into state, local and national politics for radio, TV and online. Previously, she worked for nine years at the San Francisco Chronicle covering San Francisco City Hall and state politics; and at the San Francisco Examiner and Los Angeles Times. She has won awards for her work investigating the 2017 wildfires and her ongoing coverage of criminal justice issues in California.
Congresswoman Jackie Speier proudly represents California's 14th Congressional District, and serves on the House Armed Services Committee (HASC) and as the Chair of the Military Personnel Subcommittee, on the House Permanent Select Committee on Intelligence and on the House Committee on Oversight and Reform, where she serves on the Subcommittees on Environment and Government Operations. Speier is also Co-Chair of the Democratic Women's Caucus (DWC), the Congressional Armenian Caucus, the Bipartisan Task Force To End Sexual Violence, and the Gunviolence Prevention Task Force. She is currently championing the Equal Rights Amendment for the final passage.
For more information:
Cosponsor:
League of Women Voters San Francisco

Community Partner:
Jewish Community Center of San Francisco
Free to All -- Registration Required
Register with Eventbrite below.
If the green TICKET button is not immediately visible, scroll down on the right in the Eventbrite window until it appears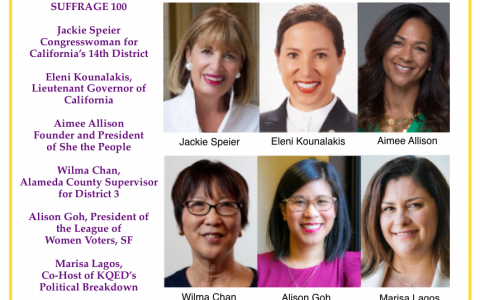 Register now by using the form below or calling .