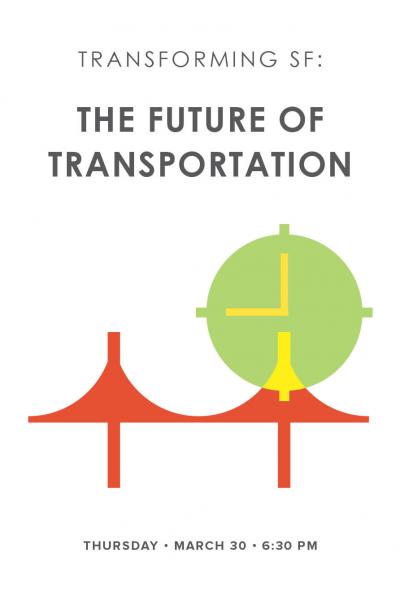 With an average speed of 8 mph, San Francisco's public transit system is the slowest in the nation, and also one of the costliest to operate. Ride-sharing vehicles outnumber taxis on city streets, commuter shuttles have created a private transportation network for tech companies, and the taxi industry continues to grapple with radical economic shifts and uncertainty. Transportation has been disrupted, but which innovative new models will create sustainable policies?
Panelists include Scott Weiner, California State Senator; Ali Vahabzadeh, Co-founder and CEO, Chariot; Joe Fitzgerald Rodriguez, Reporter, San Francisco Examiner; Carl Macmurdo, President, Medallion Holders Association.
Carl Macmurdo sits on the Taxi Task force of the San Francisco Municipal Transportation Agency. Please note: Carl Macmurdo is unavailable to attend the panel. Please welcome Charles Rathbone. See bio below.
Born and raised in San Francisco, Joe Fitzgerald Rodriguez was a staff writer at the San Francisco Bay Guardian, and now writes the S.F. Examiner's political column On Guard. He is also a transportation beat reporter covering pedestrians, Muni, BART, bikes, and anything with wheels.
Walter Thompson (Moderator) is a journalist who's worked in tech startups for two decades. He's the Community Editor for Hoodline, a hyperlocal news service, his work has appeared in San Francisco Magazine, and he's working on Golden City, a documentary about how technology has transformed housing and transportation in San Francisco.
Ali Vahabzadeh started his career in finance serving as a Vice President for Bank of America Securities in New York and London. He moved to San Francisco in 2010 to head up the first real estate tech startup to rank real estate agents based on their performance. In 2014, Vahabzadeh founded Chariot in San Francisco, a crowdsourced network of commuter shuttle routes faster and more reliable than municipal transit, while several times more affordable than point-to-point services such as Uber, Lyft, and taxi.
Scott Wiener represents District 11 in the California State Senate. Senator Wiener has served as a member of the San Francisco Board of Supervisors, where he was a champion for creating housing policy to make housing more affordable, improving the reliability and capacity of public transportation, ensuring neighborhood safety, fighting against the impacts of climate change and the drought, and safeguarding and expanding the rights of all communities, including the LGBT community. Wiener has lived in the Castro neighborhood for nearly 20 years.
Charles Rathbone has worked in the taxi industry since 1975 as a driver, as a labor organizer, and later as an assistant manager at Luxor Cab. His website Taxi-Library.org covers the history, culture and regulation of the industry worldwide. In 2011 he traveled to Rio de Janeiro as part of a United Nations Expert Group on sustainable urban transport. Charles represented taxis on the 2014 Late Night Transportation Working Group. He currently serves on the Board of the Medallion Holders' Association.
Register now by using the form below or calling 415-393-0101.