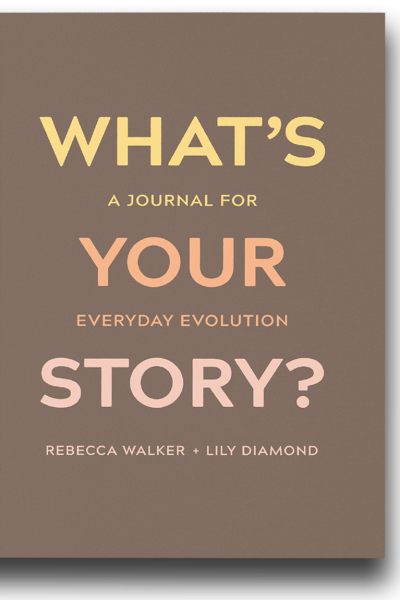 This meeting will take place over Zoom. To receive an invitation to the meeting, please sign up using the Eventbrite link below. You will receive an invitation and a link to Zoom the day before the event.
If you have not received a Zoom link by the day before the event, please contact us at [email protected]
Cosponsored by Mechanics' Institute and Museum for the African Diaspora (MoAD)
Jumping off from their new book, What's Your Story:A Journal for Everyday Evolution, which prompts transformational writing for personal, social and global change, Rebecca Walker and Lily Diamond will engage with Oakland Black Panther member, political activist and poet Ericka Huggins. There are many influences and role models that can change our sense of self, our values and the directions we take. Join this candid conversation with three dynamic change makers.
Audience members will be asked to submit on CHAT the names and contributions of inspiring women who have been lost or looked over that they would like to bring forth and acknowledge for Women's History Month.
"Rebecca Walker and Lily Diamond have created a powerful workbook to rewrite your life―to transform the scripts you've inherited into the narratives you choose." ―Esther Perel, New York Times bestselling author, therapist, and podcast host
"This journal is beautiful. It will help you find your voice and, finally, hold it sacred." ―Cleo Wade, author of Heart Talk and Where to Begin
"What's Your Story? is a meditation on purposeful being, thinking, and action. It offers a clear and attainable blueprint for unbinding ourselves from the stories of who we once were and sets us on a path of who we are becoming. It is the book we need to carry us through this moment." ―Latham Thomas, founder of Mama Glow, author of Own Your Glow
BIOS
Rebecca Walker has contributed to the global conversation about race, gender, power, and the evolution of the human family for three decades. She has authored seven bestselling books on subjects ranging from intergenerational feminism and multiracial identity including To Be Real: Telling the Truth and Changing the Face of Feminism, Black, White and Jewish: Autobiography of a Shifting Self and Black Cool: One Thousand Streams of Blackness and has written dozens of articles on topics as varied as Barack Obama's masculinity, the work of visual artist Ana Mendieta, and the changing configuration of the American family. Rebecca has written, developed, and produced film and television projects with Warner Brothers, NBC, Amazon, HBO, and Paramount, and spoken at over four hundred universities and corporate campuses internationally, including Harvard, Out and Equal, Museum of the African Diaspora, and TEDxLund. When Rebecca was 21, she cofounded the Third Wave Fund, which makes grants to women and transgender youth working for social justice. She was named by Time magazine as one of the most influential leaders of her generation―and continues to teach her masterclass, The Art of Memoir, at gorgeous and inspiring places around the world.
Lily Diamond is a writer and advocate harnessing the power of digital media to democratize wellness and empower women through storytelling, accessible practices for inner and outer nourishment, and revolutionary acts of self-care within our earth and human communities. She is the creator of internationally beloved blog Kale & Caramel and author of bestselling memoir-cookbook Kale & Caramel: Recipes for Body, Heart, and Table, celebrated as one of the top cookbooks of 2017 by the New York Times, The Independent, Cooking Light, mindbodygreen, and more. Lily's writing has been featured in VICE, Healthyish, the Huffington Post, Refinery29, and more. Her work is informed by two decades of study, certification, and teaching in the art and practice of meditation and psychosomatic therapies. She is a devoted co-conspirator to organizations decolonizing food and wellness for all. Lily was educated at Yale University and lives in Maui, Hawai'i, where she grew up, on occupied native Hawaiian land.
Ericka Huggins is an educator, leading Black Panther Party member, former political prisoner, human rights advocate, and poet. For 45 years Ericka has lectured in the United States, and internationally, on the principles of racial equity in our personal and work lives, as well as abolishing punitive practices and establishing restorative practices as we shift from mass incarceration. Ericka was professor of Sociology and African American Studies from 2008 through 2015 in the Peralta Community College District and, from 2003 to 2011 at California State Universities, East Bay and San Francisco. Ericka is a Racial Equity workshop and Learning Lab facilitator for WORLD TRUST Educational Services. She curates conversations focused on the individual and collective work of becoming equitable in our daily lives, as well as the workplace. Additionally, she facilitates workshops on the benefit of spiritual practice in creating social change, and the importance of self-care.

buy books online at:
Mechanics' Institute and MoAD members Free
Public sliding scale, $5 or $10
Register with Eventbrite below.
If the green TICKET button is not immediately visible, scroll down on the right in the Eventbrite window until it appears
Meet the Author(s)
Admission:
Mechanics' Institute and MoAD Members Free
Public Sliding Scale $5 to $10
Register now ›
Questions?
Register now by using the form below or calling 415-393-0101.
Future Meet the Author(s)