With an investigative historian's sharp eye, Siler tells the story of both the abolitionists who challenged the corrosive anti-Chinese prejudices of the time and the young women who dared to flee their fate. She relates how the women who ran the Cameron House defied contemporary convention by physically rescuing children from the brothels where they worked or by snatching them off ships as they were being smuggled in–and how they helped bring the exploiters to justice. This is a remarkable chapter in an overlooked part of San Francisco history, told with sympathy and vigor.
BIOS
Julia Flynn Siler is a New York Times best-selling author and journalist. Her most recent book is Lost Kingdom: Hawaii's Last Queen, the Sugar Kings, and America's First Imperial Adventure. Her first book, The House of Mondavi: The Rise and Fall of an American Wine Dynasty, was a finalist for a James Beard Award and a Gerald Loeb Award for distinguished reporting. A veteran journalist, Siler is a longtime contributor and former staff writer for The Wall Street Journal and has been a guest commentator on the BBC, CNBC, and CNN. Please visit juliaflynnsiler.com for more information.
Bonnie Tsui is a longtime contributor to The New York Times and the author of the award-winning American Chinatown. She has written about Michelin street food, Hong Kong's rooftop farmers, the world's first surf film, shark fin soup, the Baghdad swim team, race in America, and more for California Sunday, Pop-Up Magazine, The New York Times Magazine, and The New Yorker online, among other publications. She appeared as a talking head in the documentary The Search for General Tso, to explain the curiously foreign-yet-familiar quality of Chinese-American food, and was featured in the History Channel series "America: Promised Land." Her next book, Why We Swim, will be published by Algonquin Books in Spring 2020.
Activities
Admission:
Members FREE
Cameron House FREE
Litquake FREE
California Historical Society FREE
Chinese Historical Society Free
Public $15
Register now ›
Questions?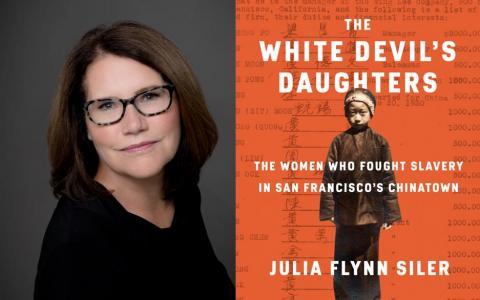 Register now by using the form below or calling 415-393-0101.