In 1857, the Mechanics' Institute hosted its first industrial exhibition, starting a tradition that lasted until 1899. These events displayed and promoted the products of local entrepreneurs and inventors, encouraging local creativity and the economy of the San Francisco Bay Area. At the first four exhibitions, 25% of the exhibitors were women. March is National Women's History Month, and so, in order to celebrate, we'd like to honor the ladies in tech who are making history now.
Early-stage startups from a wide range of niches will demo their products to potential customers, investors and users; in the audience future founders will mix with inspiring speakers, potential partners, established startups and event sponsors.
Join us and meet local entrepreneurs and movers and shakers in the tech world. If you are interested in the start-up scene, you'll love the local talent, creative vibe and selection of wine and treats!
Speakers include:
Nathalie Criou - Founderof RidePal. Product Lead for Apteligent
Erin McKean - Founder of Wordnik
Poornima Vijayashanker - Founder of Femgineer
Kate Kendall - CEO of CloudPeeps
Amanpreet Kaur - Lawyer & IP Expert
---
Nathalie Criou - Leader of Product Management for Apteligent
Nathalie Criou is a veteran of several high-growth technology companies and the founder of RidePal. She currently leads Product Management for Apteligent. Prior to founding RidePal, Nat worked in marketing and product management in online services and analytics at Google, AdMob, and Meebo. She graduated from the National Institute of Applied Science and Leeds University with degrees in Electrical and Electronics Engineering and Computer Science. She holds an MBA from INSEAD.
Erin McKean - Founder of Wordnik
Erin McKean is the founder of the newly-not-for-profit Wordnik.com, the world's biggest online dictionary. Before founding Wordnik, she was the editor-in-chief of American Dictionaries for Oxford University Press. Her goal is to make every word in the English language "lookupable" – including the 52% of unique English words that aren't currently in any dictionary. Erin is the author of three Weird and Wonderful Words books, the best-selling novel The Secret Lives of Dresses, and (most recently) The Hundred Dresses, a field guide to dresses. She's written regular columns for The Boston Globe and the Wall Street Journal and her writing has also appeared in The New York Times, PAPER, Foreign Affairs, and Sew News. She's served as an advisor to the American National Corpus, the journal American Speech, the Wikimedia Foundation, and serves on the KPCB Design Council. She blogs at dressaday.com and tweets as @emckean. When you meet her, please tell her your favorite word.
Poornima Vijayashanker - Founder of Femgineer
Poornima Vijayashanker is an entrepreneur, engineer, author, and speaker who has made her mark on the tech world. A graduate of Duke University, Poornima was the founding engineer at Mint where she helped build, launch, and scale the product until it was acquired by Intuit. Following the acquisition, Poornima went on to launch Femgineer, an education company for tech professionals and entrepreneurs who want to learn how to build software products and companies. Poornima speaks at industry events around the world and has authored the book, How to Transform Your Ideas into Software Products, and Present! A Techie's Guide to Public Speaking with Karen Catlin. Having served as the EIR at 500 Startups, Poornima has also lectured at her alma mater's Pratt School of Engineering.
Kate Kendall - Founder & CEO of CloudPeeps
Kate Kendall is a San Francisco-based, British-Australian entrepreneur and writer. She's the founder and CEO of CloudPeeps – a talent marketplace that matches businesses with the world's top freelance marketing, content and community professionals. She also created The Fetch – a curated guide to the best events and industry reads for professionals.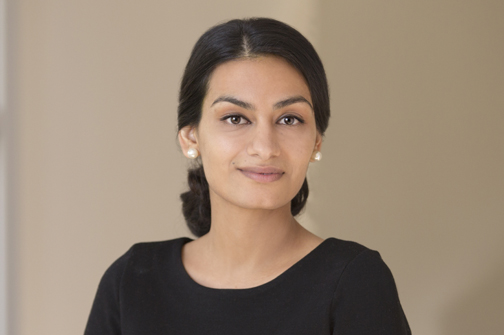 Amanpreet Kaur
Amanpreet Kaur's practice focuses on intellectual property litigation in federal and state court, and before the US Trademark Trial and Appeal Board. She is the co-chair of the American Intellectual Property Law Association's subcommittee on IP in India. She is also actively involved in the South Asian Bar Association Foundation of Northern California, which provides fellowships to law students and nonprofits to enable them to do public interest work, and currently serves as its co-president.
---
This event graciously sponsored by:
Trader Joe's
Register now by using the form below or calling 415-393-0101.