Friday, August 28, 2020 - 6:00pm

CinemaLit Popcorn Pop-Up Salon: August -- Black Lives in Film
Hello Film Lovers,
Welcome back to CinemaLit! We have missed our Friday night gatherings. Laura, Pam, and I are excited to launch this new format for CinemaLit as we Shelter at Home. We will be viewing films on Kanopy and gathering online for a Popcorn Pop-Up Salon!
All you will need is either a Mechanics' Institute library card, or a San Francisco Public Library card, which will give you access to Kanopy and its treasure trove of movies. Make a reservation as usual via Eventbrite and watch the film on Kanopy at your leisure. You will receive a link to the Friday night CinemaLit salon on Zoom two days in advance. On the night of the salon click the Zoom link and join us.
If you do not receive a Zoom Link by the day of the event, contact Pam Troy at rsvp@milibrary.org.
KANOPY INSTRUCTIONS
Mechanics' Institute members can now sign up for FREE access to Kanopy, a wonderful film streaming service. To sign up:
1. Click on THIS LINK.
2. Click on the large orange login button that reads, "Log in to milibrary."
3. Enter the 14-digit bar code from your MI Library card
4. Set up your account following Kanopy's instructions, including your email and a password.
5. Kanopy will send verification to your email address.
You'll be able to choose from a wonderful selection of films, including classics, pre-code, foreign films, and documentaries, including the films we've scheduled this month for CinemaLit.
If you are not a Mechanics' Institute member, consider membership and click HERE to join online:
Or, you can check with your public library to see if they are Kanopy members. If so, you may use your public library card to set up a Kanopy account.
Matthew Kennedy, curator and host
CinemaLit Film Series
August 2020: Black Lives in Film
"Black Lives in Film" is the August theme at CinemaLit. We're screening documentaries on the lives of two pioneering African Americans, author-poet-visionary James Baldwin (I Am Not Your Negro, 2016) and US Congresswoman and presidential candidate Shirley Chisholm (Chisholm '72: Unbought and Unbossed, 2004). Additionally, we're showing two feature films – 1991's groundbreaking Daughters of the Dust and 2019's acclaimed The Last Black Man in San Francisco.
CinemaLit is honored to welcome British-born and raised attorney and film critic Omar Moore as guest host for the August 7 discussion of I Am Not Your Negro. Omar is founder of the film essay website The Popcorn Reel where "tasty film talk" is the order of the day. He is a member of the San Francisco Bay Area Film Critics Circle and a former contributing film critic for the PBS television program "Roger Ebert Presents At The Movies". He is the host of The Politicrat, a daily podcast that focuses on contemporary politics as we move toward Election 2020. He can be read in numerous places including Medium. Omar can also be found tweeting about film, politics, and more on Twitter: @thepopcornreel. For more information about Omar, please visit Ebertpresents.com.
August 28 - The Last Black Man in San Francisco (2019)
The making of The Last Black Man in San Francisco is a lesson in tenacity, creative thinking, and problem solving needed by talented young filmmakers in the 21st century.
Millennials Joe Talbot and Jimmie Fails were best childhood friends growing up in Bernal Heights. As teenagers, the idea of making a movie starring Fails and based loosely on his life took shape. He remembers the Fillmore Victorian home of his grandfather, foreclosed when the family couldn't meet expenses as the neighborhood gentrified. Fails' dream of returning and reclaiming the property became a consuming personal quest. "Weird as it sounds, this movie is a love story about me and a house," says Fails.
The film gains further resonance by the ever-changing architectural and demographic face of the city. Director-co-screenwriter Talbot and crew had to stay ahead of demolition and construction to keep the film's visual continuity. And the title nearly isn't hyperbole. The United States is 13.4% black. San Francisco is less than 6%.
Talbot had never directed a feature film, and secured funding from a Kickstarter campaign. Eventually The Last Black Man in San Francisco won awards at Sundance, and appeared on many "Best" lists of 2019. This wistful, deftly understated and self-assured film mixes a deep love of San Francisco with universal themes of home and belonging. "A lot of people who originally came here were escaping something, or wanted to be part of a culture," said Talbot. "A lot of the anxiety we feel now is that people are no longer coming to San Francisco because they want to be part of San Francisco. They're just coming for the gold rush." Adds Fails: "We're San Francisco natives. The movie isn't some hateful diatribe against people coming in – we're just angry we no longer get to have the city that inspired us and nurtured us."
Curated by Matthew Kennedy
Matthew Kennedy, CinemaLit's curator, has written biographies of Marie Dressler, Joan Blondell, and Edmund Goulding. His book Roadshow! The Fall of Film Musicals in the 1960s, was the basis of a film series on Turner Classic Movies.
"I don't have a favorite film," Matthew says. "I find that my relationships to films, actors, genres, and directors change as I change over the years. Some don't hold up. Some look more profound, as though I've caught up with their artistry. I feel that way about Garbo, Cary Grant, director John Cassavetes, and others."
"Classic films have historical context, something only time can provide," Matt observes. "They become these great cultural artifacts, so revealing of tastes, attitudes, and assumptions."
Register with Eventbrite below.
If the green TICKET button is not immediately visible, scroll down on the right in the Eventbrite window until it appears
CinemaLit Films
Questions?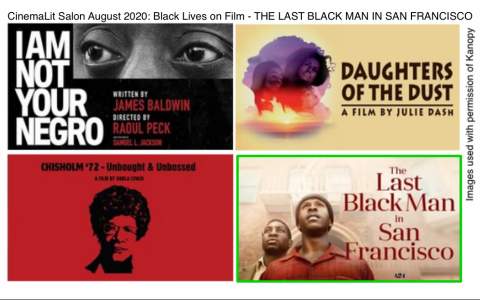 Register now by using the form below or calling .