Cosponsored by Heyday Books and California Institute for Community, Art & Nature
Masks are strongly encouraged for unvaccinated individuals.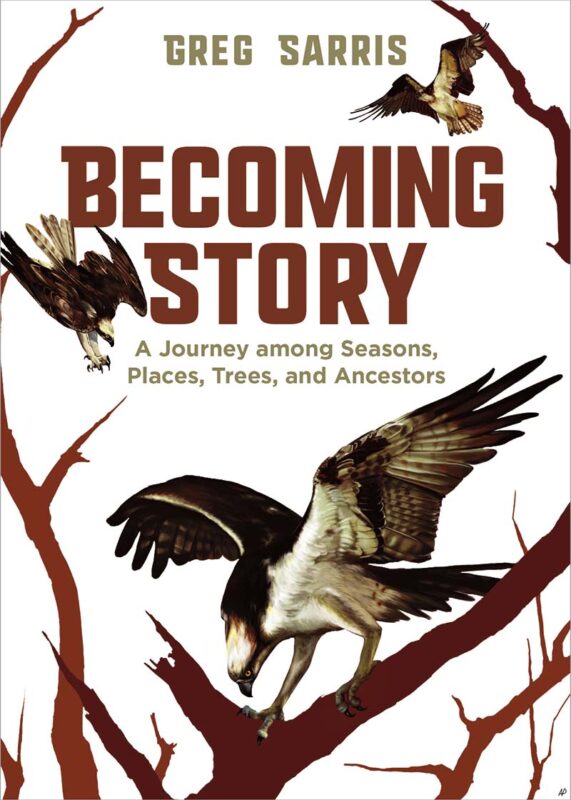 For the first time in more than twenty-five years, Greg Sarris—whose novels are esteemed alongside those of Louise Erdrich and Stephen Graham Jones—presents a book about his own life. In Becoming Story he asks: What does it mean to be truly connected to the place you call home—to walk where innumerable generations of your ancestors have walked? And what does it mean when you dedicate your life to making that connection even deeper? Moving between his childhood and the present day, Sarris creates a kaleidoscopic narrative about the forces that shaped his early years and his eventual work as a tribal leader. He considers the deep past, historical traumas, and possible futures of his homeland. His acclaimed storytelling skills are in top form here, and he charts his journey in prose that is humorous, searching, and profound. A gently powerful memoir, Becoming Story is also a master class in the art of belonging to the place where you live.
Greg Sarris is currently serving his fourteenth term as Chairman of the Federated Indians of Graton Rancheria. He holds the Graton Rancheria Endowed Chair in Writing and Native American Studies at Sonoma State University, and his publications include Keeping Slug Woman Alive: A Holistic Approach to American Indian Texts (1993), Grand Avenue (1994), Watermelon Nights (1999) and How a Mountain was Made (2017). Greg lives and works in Sonoma County. Visit his website at greg-sarris.com. (Photo Credit: Christopher Coughlin)
.
Jane Ciabattari is the author of the critically acclaimed short story collection Stealing the Fire. She is a columnist for Lit Hub, a contributor to BBC Culture, NPR, and many other publications. She is a former president of the National Book Critics Circle (and current vice president/events), serves on the advisory board of the Bay Area Book Festival, Lit Camp, and The Story Prize, is a member of the Writers Grotto and cofounder of the Flash Fiction Collective. (Photo Credit: Sylvie Rosokoff)
Books will be on sale at the event. Reserve a copy when you make your reservation.
Programming in "Civil Rights, Artistic Diversity, Historical Reckoning: Exploring the Film, Literature, and Lives of Marginalized Communities" has been made possible in part by a major grant from the National Endowment for the Humanities: Democracy demands wisdom. Any views, findings, conclusions, or recommendations expressed in this program do not necessarily represent those of the National Endowment for the Humanities.
Mechanics' Institute Members & Cosponsors Free
Public sliding scale, $5 to $10
Meet the Author(s)
Admission:
Members of Mechanics' Institute & cosponsors Free
Public Sliding Scale $5 to $10
Register now ›
Questions?
Register now by using the form below or calling 415-393-0116.
Future Meet the Author(s)