Our scholastic 4 round Swiss tournaments: USCF rated, and standard uscf rules apply.
Read the general information and scroll down to see all upcoming event dates & locations.
SWISS TOURNAMENT
ONSITE REGISTRATION:
9:30 am - 9:45 am
ROUNDS:
10:00 am, 11:15 am, 12:30 pm, 1:45 pm
SECTIONS:
700+
400-699
Under 400 & Unrated players
BYES:
Max of byes: 2
Last round to request a bye: 2
Number of rounds in tourney: 4
Bye note: All bye requests after round 2 will be 0 point
PRIZES:
Trophies to top 5 finishers (including tie breaks), medals for all others.
FEE:
$35 entry fee
$10 play-up fee
$10 late fee
USCF membership required
*** Blitz tournaments are on hold for the Fall ***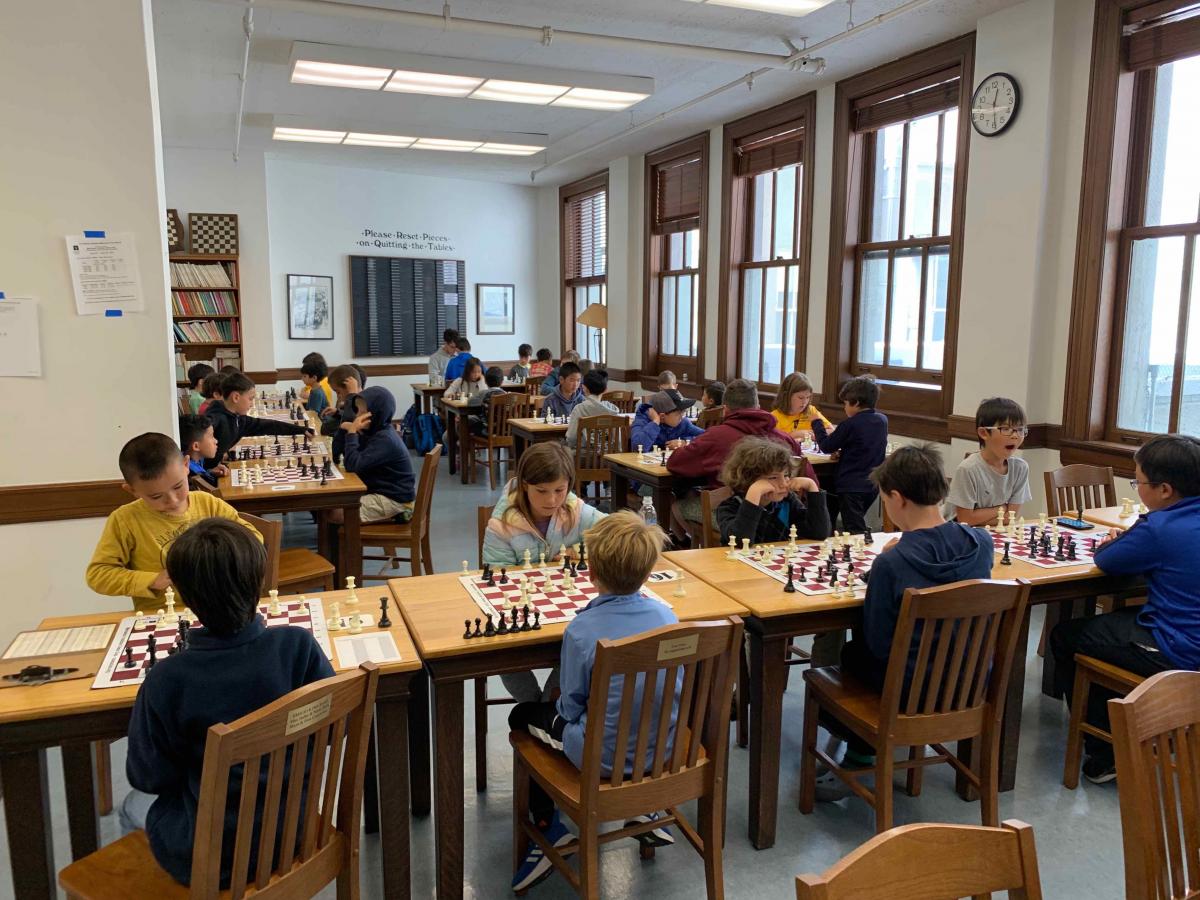 Testimonials
" My son had a wonderful time at chess camp and the tournament too." Eileen C.
" Thanks for running such a great program!!" Eric H.
" My son looks forward to the chess tournaments as an opportunity to play against his peers citywide. We look forward to participating again" S. Patrick



Frequently Asked Questions:
1. What should I do when I get there?
No need to check in with TD, just check your entry on the wall, if everything good, wait for the pairing. Pairing will be posted 5 mins before the round start, and as soon as all games finished and we paired the following rounds.

2. How do we pair players?
We take every player in one section, and pair them according to USCF Swiss tournament pairing rules. Learn more about it HERE.

3. Does touch move rule apply? And other rules...
Yes, this is a USCF rated tournament, so we are playing by standard USCF rules. This means if a player touch a piece, they have to move it, unless no legal move exists.
How about scorekeeping? Keeping scores at scholastic tournaments is NOT mandatory. But we do encourage players and we have pencils and scoresheets available.
How about clocks? Using a clock is NOT mandatory. However, if any player wants to use a clock, per uscf rules, the other player must use it.

4. Will my child get a rating after this?
Yes. This is a USCF rated tournament, and we are sending the tournament to USCF for rating. Typically it's done the same day, and updated ratings will be available.
You can search having the MI tournament listed:
www.uschess.org/datapage/event-search.php?name=&state=ANY&city=&date_from=&date_to=&order=D&minsize=&affil=A5013488&timectl=&mode=Find
or you can search for a player (last name, first name), click on the player's name and the tournament will show up on the last tab (Tnmt Hst): www.uschess.org/datapage/player-search.php

5. When will the tournament end and who gets trophies?
Tournament will end between 1-2pm approximately. We will have a trophy ceremony after the last round is finished. Top 5 players in each section will receive a trophy. If multiple players tied for the 5th place, they will all receive a trophy. All others will receive a medal.

6. What's the difference between supplemental and actual rating? How is the supplemental rating determined?
Actual rating is the rating that is changing after every tournament and can be looked up in the last tab on every player's page (Tnmt Hst). Actual ratings are only used in Quad type of tournment pairings.
Supplemental rating is a rating that is determined on the third Wednesday of the previous month: USCF takes a snapshot of everyone's actual rating, and that becomes the supplemental rating for the following month. So for example, for a June 2019 suppelemntal rating player's actual rating on May 15th was used as the June supplemental rating, and that rating was used for all Swiss type of tournament pairings.
7. How do we determine the order of the players with the same score? In other words: what tie-break system do we use?
We are using the tie-break system that USCF scholastic regulations states in their most recent published document:
http://www.uschess.org/images/stories/scholastic_chess_resources/us_chess-scholasticregs_feb2018.pdf
20.3.1 When individual scores are equal, the following order of tie-break systems will be used to designate individual awards:
• Modified Median
• Median
• Solkoff
• Sonneborn-Berger
• Cumulative
• Coin flip