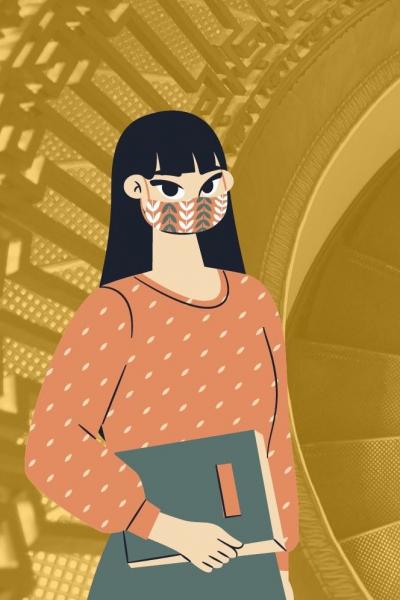 What can I do with my MI membership during the pandemic?
How Does MI Library "To Go" Service work?:
MI's no-contact "To Go" service is available Monday, Wednesday and Friday from 12-3 pm at 57 Post Street.

Members may request books, CDs, DVDs, or audiobooks on CD in the library's catalog or or call 415-393-0101 for staff assistance Monday through Friday, 12-3. At this time, magazines are not available for checkout.

After you place your requests, please wait until MI staff contact you to schedule a pick-up appointment.

Library materials may be returned during your "To Go" appointment OR anytime between 8 am and 6 pm, M-F in the 57 Post St. lobby. If you are unable to leave home, you can return library items by FEDEX, USPS, or UPS to: Mechanics' Institute, 57 Post St., Suite 504, San Francisco, CA 94104.

If you are homebound due to illness, you may be eligible for the Library's Homebound Outreach service.
How Do I Return Materials and Why Are They Still on My Account?
Library materials can be returned to the lobby book drop Monday-Friday between 8 am and 6 pm. The building is closed on the weekend and on holidays.

For the safety of staff and our members, library materials are quarantined for 96 hours before being checked in. Any fees accrued during quarantine time are removed upon check in.
Why Does it Take Longer to Process my Book/DVD/Material Requests?
Due to public health and safety concerns, library staff are working in a limited capacity.

We appreciate your patience and understanding.
Does the Library accept materials donations?
Until further notice, the library cannot accept donated books, magazines, etc. for the health and safety of staff and members.
When will the Library building reopen?
We are anxiously awaiting a time when we can welcome members back into the library building.

For staff and member safety, we are developing a plan in accordance with city and county guidelines. Reopening may include limited browsing of physical materials and reduced hours, depending on the COVID-19 situation.
Who to Contact at MI
Chess Inquiries - 415-393-0110 or [email protected]
CinemaLit and Events Questions - 415-393-0115 or [email protected]
Fines or other library account issues - [email protected] or call 415-393-0101.
Library Events, book clubs, virtual programs,etc.- 415-393-0102 or [email protected]
Membership - 415-393-0105 or [email protected]