Mechanics' Institute Chess Club Newsletter #739
February 26, 2016
Undoubtedly, no one possesses the ultimate chess knowledge, but sometimes partial knowledge aided by strong concentration over the board can help us to discover components of knowledge that were previously unknown to us. The more motifs or ideas a player knows, the more likely he is to find what is appropriate for the needs of a certain position.
—The Grandmaster Battle Manual (page 97), by Vassilios Kotronias
The newsletter will take a break the next few weeks, along with the Tuesday Night Marathon.
The latter will resume March 15 and newsletter #740 will appear March 18.
1) Mechanics' Institute Chess Club News
The 2016 Winter Tuesday Night Marathon will not only be remembered for its record-setting attendance (132 players, beating the previous Mechanics' record of 121) but also for its dramatic finish. Natalia Tsodikova almost took home the first prize of $850 by herself after emerging from the early middlegame with a near-decisive advantage against fellow National Master Tenzing Shaw, but then a miscalculation nearly threw the game away and led to a tense ending that finished in a draw. This result opened the door for a group of National Masters trailing by half a point and James Critelli, Elliott Winslow and Josiah Stearman grabbed their opportunities to join the leaders. The five winners divided the top three prizes, receiving just over $320 each.
National Masters (L-R) Romy Fuentes, Natalia Tsodikova and Tenzing Shaw before the start of round eight. (Photo: Paul Whitehead)
---
From round 8 of the Winter Tuesday Night Marathon:
White to move (Shaw–Tsodikova after 42...Rxc2)
Black to move (Fuentes–Critelli after 39 Nf2)
White to move (Walder–Winslow after 35...Qxb2)
Black to move (Melville–Krasnov after 48 h3)
Black to move (Hack–Bachseitz after 16 Rxb5)
Black to move (Gomez–McKellar after 7 Qe4)
White to move (Touset–Kuczek after 13...Nh6)
Black to move (Cunningham–Bertot after 35 Rge1)
White to move (Erdenebileg–Rieger after 10...Nc4)
For the solutions, see the game scores for round 8.
---
Further down the ranks several players had significant rating gains, with Ethan Boldi picking up 154 points (from 1554 to 1708), Cailen Melville gaining 105 (1811 to 1916) and Willie Campers advancing 99 (1673 to 1772). No one gained as much as Stephen Tousset, who took home a whopping 222 rating point gain (1152 to 1374) and played the following last-round brilliancy.
Stephen Touset (1152)–Kevin Kuczek (1741)
Mechanics' Winter TNM (8) 2016
1.d4 Nf6 2.Bf4 e6 3.Nf3 c5 4.e3 cxd4 5.exd4 Nc6 6.c3 Be7 7.Bd3 0–0 8.Nbd2 b6 9.h4 Bb7 10.g4!?
The text looks over-aggressive, but is very much in the modern style.
10...Nxg4 11.Bxh7+! Kxh7 12.Ng5+ Bxg5?
12...Kg8 13.Qxg4 Nxd4 14.Rh3 f6 (14...Nf5 15.Qh5 Nh6 16.Rg3 Qe8 17.Nxe6 Bf6 18.0–0–0 fxe6 19.Qxh6 e5 20.Rdg1) 15.Qh5 fxg5 16.hxg5 Nc2+ 17.Kd1 Rxf4 18.Qh7+ (18.g6 Bh4–+) 18...Kf7 19.Qh5+ Kf8 20.Qh8+ Kf7 21.Qh5+ draws.
13.hxg5+ Nh6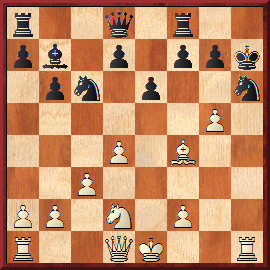 14.Rxh6+!! gxh6 15.Qh5 e5
There is no defense: 15...Ne7 16.Qxh6+ Kg8 17.Be5; 15...Na5 16.Qxh6+ Kg8 17.Be5; or 15...Nb4 16.Qxh6+ Kg8 17.cxb4 Qe7 18.Ke2 f6 19.gxf6 Qh7 20.Rg1+ Kh8 21.Qg7+.
16.Qxh6+ Kg8 17.Ne4 exf4 18.Nf6+ Qxf6 19.gxf6 1–0
---
The next Tuesday Night Marathon starts on March 15, and Grandmaster Sam Shankland will give a free lecture from 5:15 to 6:15 pm that evening that all are welcome to attend.
---
Europe is home to hundreds of leagues, which are the heart of organized chess for amateurs and professionals all over the continent. While the United States doesn't have anything comparable to Germany's famous Bundesliga, we do have the U.S. Chess League (played via the Internet for over a decade). For old-school face-to-face chess there is the Chicago Industrial Chess League, dating back to the late 1950s, and New York's Bankers League which was founded in 1917.
Along the lines of Chicago and New York the Mechanics' Institute of San Francisco is trying to form an employee-based team competition in the heart of high tech. Thursday, February 18, six teams met at the Mechanics' in a prequel to a full-fledged league.
The top team by rating was LiveRamp, with near-2300 masters Tenzing Shaw and James Sun on the top boards. They defeated Dropbox, which fielded strong Experts and Class A players, by a score of 3–1.
Here are the top two boards from the match. All games were played at G/55 with 5-second delay.
Tenzing Shaw (2287)–Kerry Xing (2129)
LiveRamp v Dropbox San Francisco 2016
1.d4 f5 2.Nc3 Nf6 3.Bg5 d5 4.Bxf6 exf6 5.e3 c6 6.Bd3 Bd6 7.Qf3 g6 8.Nge2 Be6 9.h3 Nd7 10.g4 fxg4 11.hxg4 Bf7 12.Nf4 Nf8 13.0–0–0 Qc7 14.Nfxd5 cxd5 15.Qxf6 Be6 16.Nb5 Qd7 17.Nxd6+ Qxd6 18.Bb5+ Nd7 19.Qxh8+ Qf8 20.Rxh7 0–0–0 21.Qxf8 Nxf8 22.Rh4 g5 23.Rh6 Bxg4 24.Rg1 Bf3 25.Rxg5 a6 26.Bd3 Nd7 27.Bf5 Kb8 28.Rd6 Kc7 29.Rxd7+ Rxd7 30.Bxd7 Kxd7 31.Rg7+ 1–0
Hongkai Pan (2099)–James Sun (2270)
LiveRamp v Dropbox San Francisco 2016
1.d4 Nf6 2.c4 g6 3.Nc3 Bg7 4.e4 d6 5.Nge2 0–0 6.Ng3 c6 7.Be2 a6 8.a4 a5 9.f4 e5 10.d5 Qb6 11.dxc6 bxc6 12.Qxd6 Na6 13.Nd5 Nxd5 14.exd5 exf4 15.Ne4 Qd4 16.Qxf4 cxd5 17.cxd5 Nb4 18.Be3 Qxb2 19.Rd1 Nc2+ 20.Kf2 Nxe3 21.Qxe3 Bd7 22.Rd2 Qb4 23.Bf3 Rfe8 24.Qd3 Qb6+ 25.Ke2 f5 26.Rb1 Qd6 27.Qc4 fxe4 28.Bxe4 Bf5 0–1
Other matches saw TubeMogul defeat The Hustle and Square beat Saleforce.
San Francisco area companies which are interested in joining the new league are encouraged to contact the Mechanic's Institute Chess Club at [email protected].
---
Jules Jelinek won the Mechanics' Wednesday Night Blitz held February 17 with a score of 11 from 12. Athur Ismakov was second with 10.
---
The US Amateur Team West held in Santa Clara, California (February 13-15) saw "Rainbow Unicorns" prevail after their final round victory over the BAC Dark Knights. The team consisted of
Board 1: FM Cameron Wheeler (2436)
Board 2: NM Albert Lu (2317)
Board 3: NM Siddharth G Banik (2265)
Board 4: Alvin Kong (1742)
For more information on this event goes to https://new.uschess.org/news/rainbow-unicorns-only-in-the-us-amateur-team-west/.
---
Gata Kamsky of New York City won the recently-concluded giant Swiss in Cappelle la Grande with the outstanding score of 7½ from 9 (2806 performance rating). Grandmaster Kayden Troff of Salt Lake City and International Master Marc Esserman of Boston both turned in fine results with scores of 6½, good for performance ratings of 2635 and 2587 respectively. Konstantin Kavutskiy of Santa Clara had 5½ points.
---
The latest issue of the comic "Jill Trent, Science Sleuth" has a chess story in it called "Fianchetto's Gambit". It was written by Charley Macorn, with Michael R. Hall and Frank Barbara doing the art and D.M. Higgins the editing and lettering. The chess advisor was Mig Greengard, who grew up just north of Richmond, California, and is best known for being the person who puts Garry Kasparov's ideas on paper.
2) Grand Chess Tour
Two New Tournaments Added For 2016 Season
World's top players to compete in expanded tour with new events in Paris and Brussels-Leuven, featuring rapid and blitz
SAINT LOUIS (February 10, 2016) – The Grand Chess Tour announces two new tournaments for its second season in 2016 with the world's top players competing for one million dollars in a mixture of traditional, rapid and blitz events in four countries.
The 2016 Grand Chess Tour season will include rapid and blitz tournaments in Paris and Brussels-Leuven in addition to the Sinquefield Cup and London Chess Classic. The Grand Chess Tour is further establishing itself as the premier chess circuit in the world.
The field for 2016 will be announced in the near future. The three top finishers in the 2015 Grand Chess Tour will be invited as well as the five highest average rated players in 2015. Each tournament will award one wild card invite and the Grand Chess Tour will add another wild card invite rounding out the field to ten.
The Grand Chess Tour welcomes new sponsors Colliers International France and Your Next MoveTM. Colliers International France, a commercial real estate services organization will sponsor the Paris tournament. Your Next MoveTM, a Belgian non-profit, will sponsor the Brussels-Leuven tournament.
2016 Grand Chess Tour
Location
Date
Prize Fund
GCT Rapid and Blitz
Paris, France
June 8th - 14th
$150,000
GCT Rapid and Blitz
Brussels-Leuven
June 15th - 21st
$150,000
Sinquefield Cup
Saint Louis, USA
August 4th - August 16th
$300,000
London Chess Classic
London, England
December 7th - December 19th
$300,000
Grand Chess Tour Prize Fund 2016
$150,000
The overall 2016 GCT winner will receive a bonus prize of $100,000 and the second placed player $50,000 prize to make the prize fund $1,050,0000 across the four events.
The Grand Chess Tour combines the organizational efforts of the four elite events into a unified competitive structure. The partnership aims to raise worldwide awareness for each prestigious tournament, as well as for the tour.
Participating tournaments are identified as the gold standard for international event organization, setting the model for player conditions, prize funds and spectator experience. Each of the events will cater to live audiences, as well as offer streaming broadcasts complete with grandmaster commentary.
For more information, visit www.grandchesstour.com.
3) Vassily Smyslov at the Mechanics'—March 20, 1976
Richard Shorman's column in the The Hayward Daily Review of March 28, 1976 reported that Smyslov lost to Victor Baja age 16, Randy Fong age 17 and Jay Whitehead age 14 (2175), and that he drew Russell Bartoli, Garry Berry, Mike Dyslin, Pamela Ford, Barry Kraft, Charles Moore, Peter Stevens, and Ted Zwerdling, for a final score of +18, -3, =9, March 20; Walnut Creek, March 21 +21, –0, =2 (Poschmann and Martin Sullivan).
Here the future International Master and world-class chess historian (specializing in chess played from the 1830s to 1860s) attacks the former World Champion with gusto.
King's Indian E94
Vassily Smyslov–Jay Whitehead
San Francisco (simul) 1976
1.d4 Nf6 2.c4 g6 3.Nc3 Bg7 4.e4 d6 5.Nf3 0–0 6.Be2 Nbd7 7.0–0 e5 8.d5 Nc5 9.Qc2 a5 10.Bg5 h6 11.Be3 Nh5 12.g3 Bh3 13.Rfe1 f5 14.Nh4 f4 15.Bxc5 dxc5 16.Nxg6 fxg3 17.hxg3 Qg5 18.Bxh5 Qxh5 19.Nh4 Rf4 20.Re3 Qg5
Some sources give 20…Qg4, but the text is what was played.
21.Nf3 Qg6 22.Ne2 Raf8 23.Nxf4 exf4 24.Nh4 Qg4 25.Rf3 fxg3 26.Rxf8+ Kxf8 27.fxg3 Qxg3+ 28.Ng2 Bd4+ 29.Kh1 Bf2 0–1
M.I. Newsletters #22 and 295 have more information on Smyslov's visit post-Lone Pine.
4) This is the end
Here is an ingenious king-and-pawn study. What result do you expect?
White to move
Show solution
---
You can browse through our archived newsletters using the "next" and "previous buttons".
Want to save this newsletter for reading at a later time? Click here to learn how.
Want to be notified when the next newsletter is published? Join Our Email List →