Mechanics' Institute Chess Club Newsletter #772
January 13, 2017
For me personally there wasn't any kind of cognitive dissonance—it all went pretty smoothly. But chess, of course, has altered very significantly. The main change, a completely fundamental one, is the new evaluation of defensive resources. Previously a huge amount of analysis stopped in the region of move 17–19 with the symbol for "with an attack"—that was really good. Now, having worked with computers for decades, you understand very well that "with an attack" isn't an evaluation. The computer defends positions that previously, having taken a single glance at the board, you'd consider to be mate. You didn't know how, but there was no need—you'd find it at the board. But the computer finds such resources that people as well have started to evaluate defensive resources completely differently. It's become clear how balanced the game is and how difficult it is to upset that balance.
—Peter Svidler, commenting on the recent World Championship match and answering the question "In New York we had children of the computer era, while you started out in a completely different time. How easy was the transition for you? And in general, how have computers changed chess?"
See the entire interview with Svidler here.
1) Mechanics' Institute Chess Club News
International Master Elliott Winslow leads a group of a dozen players who have perfect scores after two rounds of the Winter Tuesday Night Marathon. The event, which currently has 100 players in it, is the 12th consecutive TNM to reach the century mark in a streak going back to the Fall Tuesday Night Marathon of 2016. It's not too late to enter the eight-round FIDE- and USCF-rated event with half-point byes for the first two rounds.
---
From round 2 of the Winter Tuesday Night Marathon:
| | |
| --- | --- |
| | |
| White to move (Sarafian–Tsodikova after 18...Nfd5) | White to move (Doyle–Babayan after 9...a5) |
| | |
| Black to move (Kim–Newey after 8 axb4) | White to move (Ismakov–MacIntyre after 25...fxg6) |
| | |
| White to move (Maser–Stearman after 51...a3) | White to move (Sherwood–McCarty-Snead after 5...cxd5) |
| | |
| White to move (Morgan–McEnroe after 22...Bh4) | Black to move (Abraham–Clemens after 24 Rab5) |
| | For the solutions, see the game scores for round 2. |
---
Expert Carlos Davila scored 5–0 to win the 17th Bob Burger Open, held to honor the noted master, author and world class problemist. National Master Conrado Diaz, Expert Arthur Ismakov, Class A player Ashik Uzzaman and Class B player Mesut Timur tied for second at 4–1 in the 36-player field. Veteran Mechanics' player Albert Starr, rated 1500, had a tournament to remember, drawing Joe Tracy (2163) in round one and then beating Adrian Kondakov (1974) and National Master Romy Fuentes, before returning to earth and losing the last two rounds. He still managed to gain 136 rating points.
National Master Bob Burger (Photo: Val Zemitis)
---
The Mechanics' entry in the Pro Chess League is off to a successful start after defeating Pittsburgh Pawngrubbers 10–6 on Wednesday. The San Francisco Mechanics were led by Grandmaster Vinay Bhat, who won all four of his games (time control G/15 with a two-second increment), including a victory over reigning US Open Champion Alex Shabalov. IM-elect Cameron Wheeler scored 3–1. Next week the M.I. faces the San Jose Hackers, one of the highest-rated teams in the league, with several +2640-FIDE-rated players on its roster.
2) North American Open
Tamaz Gelashvili, Ruifeng Li and Josh Friedel tied for first in the top section of the 794-player North American Open, held in Las Vegas from December 26–30. International Master norms were achieved by Cameron Wheeler, Nikhil Kumar and Nick Raptis. This was the third and final norm by Wheeler, a 16-year-old high school student from Cupertino. He should receive the IM title soon, as he has already met the other requirement for the title, a FIDE rating of 2400 or higher. Wheeler will join Kesav Viswanadha and Vignesh Panchantham as Bay Area IMs under 18 years of age.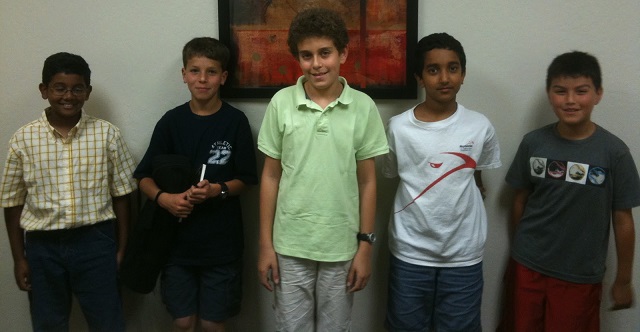 Four young talents flanking their coach FM Daniel Naroditsky during a training session in 2010—three have already become International Masters. From left to right: Vignesh Panchanatham, Allan Beilin, Daniel Naroditsky, Kesav Viswanadha and Cameron Wheeler. (Photo: Rob Wheeler)
Noted coach and FIDE Master Michael Aigner of Davis, has compiled a list of Bay Area juniors who have earned the IM title before their 18th birthday.
GM Vinay Bhat -- IM in 2001 -- GM in 2008
GM Sam Shankland -- IM in 2008 -- GM in 2011
IM Steven Zierk -- IM in 2010 -- has 2 GM norms
GM Daniel Naroditsky -- IM in 2011 -- GM in 2013
IM Yian Liou -- IM in 2014
IM Kesav Viswanadha -- IM in 2014
IM Vignesh Panchanatham -- IM in 2016
IM-elect Cameron Wheeler -- IM title is pending
---
There was more good news for local chess as Jack Zhu raised his rating over 2400 for the first time, and former Bay Area stalwart James Tarjan was in the fight for the top places for the entire tournament before losing a tough last round game to fellow Grandmaster Akshat Chandra.
Here is a key win by Tarjan against a promising young Senior Master from Washington state.
Pirc Defense B08
Bryce Tiglon–Jim Tarjan
North American Open (6) 2016
1.e4 g6 2.d4 Bg7 3.Nf3 d6 4.h3 Nf6 5.Nc3 0–0 6.Be3 a6 7.a4 e6 8.Qd2 Re8 9.Bh6 Bh8 10.Bg5
10.0–0–0 was also possible but not everyone would want to castle long having played a4.
10 ... Nc6 11.Be2 b6 12.0–0 Bb7 13.Rad1 Qc8 14.e5 dxe5 15.dxe5 Nd5
16.Ne4?!
16.Bf4! surrendering the bishop pair to consolidate White's space advantage was the correct course of action and would have offered a small advantage.
16 ... Nxe5 17.c4 f5! 18.Nxe5 Bxe5
19.f4?!
19.cxd5 fxe4 20.dxe6 Qxe6 21.Qc1 offered compensation for the pawn.
19 ... Bg7 20.cxd5 fxe4
21.Bg4?
This loses. White had to keep his disadvantage to a minimum with 21.dxe6 Qxe6 22.Qd7.
21 ... Bxd5 22.f5 gxf5 23.Bh5
23.Bxf5 had to be played but after 23 ... Qb7, 23 ... c5 or 23 ... c6 Black should win.
23 ... Rf8 24.Be7 Qd7 25.Bxf8 Rxf8 26.a5 Qb5 27.axb6 Qxb6+ 28.Kh1 Qxb2 29.Qe3 Qe5 30.Qe2 f4 31.Bg4 h5 0–1
3) This is the end
Here is a position from what was probably a simultaneous exhibition. Which side was the grandmaster, and how did the game end?
White to move
Show solution
---
You can browse through our archived newsletters using the "next" and "previous buttons".
Want to save this newsletter for reading at a later time? Click here to learn how.
Want to be notified when the next newsletter is published? Join Our Email List →